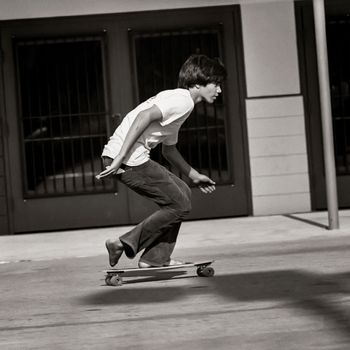 Nowadays, cool teens have their choice of skating subcultures. There's hypebeast, as evidenced by Supreme drops and Barbra Kruger burns. There's the NYC contingent, which has organized to protect skating areas in parks, inspired coming of age movies, and formed feminist-Lantinx skate collectives. But before all that, there was Southern California in the 1970s. Photographer Hugh Holland was one of the first to capture the then-emerging skating world, as seen in his previous book of photos, Locals Only. Now, you can flip through more than 100 never-before-published photos of '70s skate culture in Holland's latest book, Silver. Skate. Seventies.
In the introduction, Holland recounts his arrival to the Golden State, the rise of skating, and his concurrent, developing passion for photography. Throughout the latter half of the '70s, Holland shot local teens as they skated across neighborhood parking lots, sidewalks, and drought-drained swimming pools. "Innocence and no pretense, only the joy of freedom and discovery," Holland writes, describing what drew him to photograph skaters.
Below, selected images from Silver. Skate. Seventies., out now from Chronicle Books.