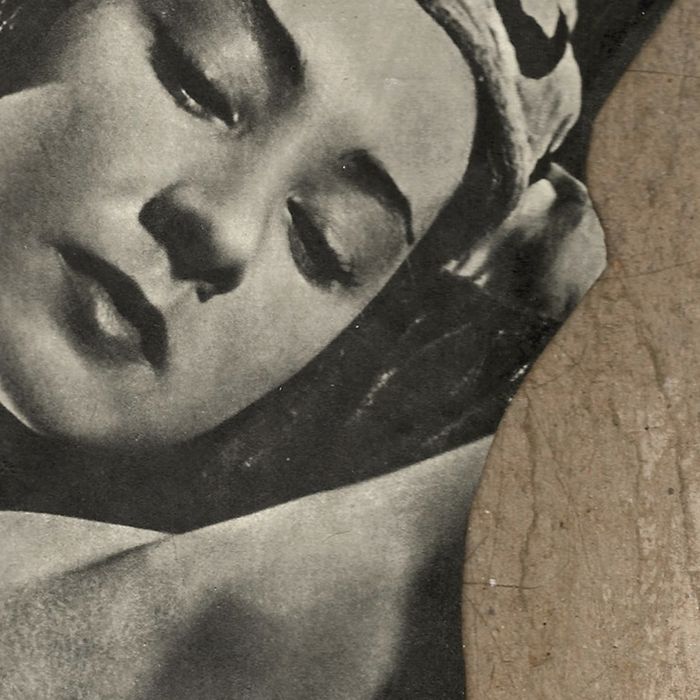 Photo-Illustration: James Gallagher
This week, a woman having lots of sex while dreaming of a lakeside wedding: 23, straight, single, New York metro area.
DAY ONE
8:30 a.m. I wake up at my parents' lake house smiling like an idiot. K and I made out last night after a weekend of "Will they, won't they?" He's our next-door neighbor and I've known him forever, but this lake weekend was the first time we did anything physical.
We made out and did some over-the-pants stuff on my parents' porch at 1 a.m. I spilled wine down his back, and he laughed, reassuring me that it would be a funny story one day. I'm half in love already.
10:50 a.m. On the train back to the city, thinking about K. I text him, and he responds that he can't wait for the next time I'm on the West Coast, where he lives. I'm remembering that he whispered something about me coming to visit him last night, that we could pick up where we left off. I immediately look up flights. When that starts to feel crazy, I shift to pinning "lake wedding" pictures on Pinterest.
2:00 p.m. Home, and my ex-boyfriend J's suddenly texting me. He and I officially broke up about three months ago, but we're still talking and sleeping together. "I miss you," he says. We make a plan for later in the week. I don't want to see him, really. But it's familiar sex, and I get drunk off of "I miss you" and how much he claims to still love me.
3:00 p.m. In bed for a nap, so I send K a picture. G-rated, just me curled in bed in the good lighting coming in from the windows. "Looks cozy," he responds.
5:00 p.m. Wake up to another text from J, asking to borrow $100. Oy. We broke up because he cheated on me twice in the span of a month and because he was generally erratic, unpredictable, and irresponsible. Which we all can be. But most of us don't run up $400 bar tabs on nights out with an ex-girlfriend and make out with them in the alley behind the bar when we're supposed to be home with our current girlfriend.
I struggle to muster the self-respect to say no, but before I can reply, he texts again: "Sorry, I feel weird for even asking." Thank God. "Okay, good!" I reply. "I'm not comfortable with that." The dots appear and disappear and finally he sends, "I already said you didn't have to. As if you're not fucking flush with cash and I wouldn't do the same for you. Go fuck yourself." It stings, and I don't respond.
10:30 p.m. Back in bed after dinner with friends, swiping through Bumble to stop myself from texting K. He's older, laid-back, and just so … good. I don't want to be a needy 23-year-old and scare him away with my, you know, existence. I take some melatonin so I don't have to lie awake thinking about just how needy I am, and I drift into sleep.
DAY TWO
8:30 a.m. I'm so groggy from the melatonin that I almost forget to take my Prozac before rushing out to work. I've been on it for three years now, and it's the only thing that keeps my issues somewhat at bay.
10:30 a.m. I'm a copywriter in advertising, and I've been working with the same team for about a year now. After our actual hot sheet every morning, when we go over the day's tasks, we move on to the "hawt sheet": airing our dirty laundry. K is obviously my update for the day. I gush, showing off pictures, and the team is appropriately complimentary.
7:00 p.m. Finish up for the day and head home to hang out with my vibrator. I need to get this nervous K energy out of my body. I close my eyes and I'm back on the porch with his hands in my hair and his voice in my ear telling me he'd wanted this all weekend. Ten minutes later, I'm up fixing myself a healthy, balanced meal of Cheez-Its. I eat them while watching Broad City and wondering if I should get tested for STIs again. My body is a temple.
11:15 p.m. Back in bed idly swiping, as usual. Talking to a few prospects I'm not at all interested in, as usual. J calls me to talk as we fall asleep, which is also, unfortunately, a semi-usual occurrence. He tells me he loves me, and it's better than melatonin.
DAY THREE 
7:45 a.m. Less groggy this morning, but the high of K is wearing off. This always happens. A single romantic interaction jump-starts a fantasy, then real life intercedes to remind me that everything I'm excited about is all in my head. Real life: He hasn't texted.
3:00 p.m. I get a surprise Instagram DM from B, whom I met in a bar a few weeks ago. I turn to tell my coworker, and she reminds me that this guy was a hatfisher — he was wearing a hat at the bar, but when I met him at his apartment later that week, he turned out to be cue-ball bald. There's no problem with being bald, of course. It's just funny. We're cackling over that, and all of a sudden I'm in a good mood.
7:15 p.m. I take the train uptown to meet a friend for margaritas. I give her the rundown on B, K, and J, and she updates me on a guy she's been seeing for a few months. I almost spit out my margarita when she lets slip that he's a Trump supporter. We're both educated, progressive, socially conscious women, so this is a moment of major cognitive dissonance. I ask if it affects their pseudo-relationship, and she says no so I agree that we can continue to evaluate.
DAY FOUR 
10:15 a.m. Lots to do at work, but yesterday's anxiety has given way to a cloudy, tired depression. I put my earphones in, blast Taylor Swift's new album, and jam on a project until the clouds part a little.
2:30 p.m. This album has me thinking about N, whom I met when I was a sophomore in college. He walked into my room in a Taylor Swift sweatshirt, and I had that moment Taylor writes about, that moment when you can suddenly see your life unspooling before you. That's him, I remember thinking. But I had a serious boyfriend at the time, and he soon latched on to a girlfriend — and I happened to be his RA. High achievers can't be rule-breakers.
We both broke up with our partners around the same time in the fall of my senior year. It took only two days for him to end up in my room at 2:00 a.m. He came over every night for the next two weeks, and it was exactly what I'd always thought it could be.
But his ex-girlfriend found out, and the whole thing blew up. We both moved on but stayed in touch. Now that we're both single, we text every day. He's far away — in the Army, in fact.
9:30 p.m. I get a new message on Tinder and see that some guy named S wants to come over. Why deny him the pleasure? He shows up looking like a fuckboy. He fucks me like a fuckboy, too — no condom, jackhammer-esque, repeatedly calling me a "slut." I don't love that, but again, who am I to deny him the pleasure? Besides, the whole thing's over and I'm alone again within 45 minutes. Definitely a melatonin night.
DAY FIVE 
10:00 a.m. Airing S out to my team at hawt sheet. I'm the most open of all of us — it's something I've always been known for, and it's the best camouflage of all. People assume I've told them everything because the things I do reveal are so personal. It's easy to talk about crazy unprotected sex but really hard to acknowledge that I just don't love myself enough to use a condom.
3:00 p.m. Today's Friday and I don't have any plans yet, so I text basically everyone I know in the city. Naturally, everyone is already busy or out of town.
8:30 p.m. Home drinking wine from the bottle and swiping on Tinder. I match with an English professor and message to ask what he's up to. I'm on my way to his place within half an hour.
Fuck, he's so sexy. And kind and sarcastic and smart and everything he looked like he'd be. We're passing my wine bottle back and forth and reading each other passages from books on his bookshelf when he kisses me. I melt on the spot and end up in his bed, where we have sex three times and fall asleep in each other's arms.
DAY SIX
9:15 a.m. Wake up and poke Professor until he cracks his eyes open and smiles. We snuggle for awhile. I'm holding my breath, still not convinced that this is happening, that I'm feeling something real for him. As always, I shift quickly into "I'm bothering him, he hates me" mode and say he can kick me out whenever he wants. He laughs, kisses me, and jokingly asks me to move in.
10:30 a.m. He insisted on driving me home. He's blasting music in the car, and we're both scream-singing along. Quick shower and then back to Washington Square, where J and I have agreed to meet.
12:30 p.m. We meet up and things feel a little tense (recall the conversation about money earlier this week). But apparently not that tense, because we end up back at my place having familiar, pretend-we're-in-love sex. I want him to leave as soon as we're done, and he does. I sit there feeling that dirty type of love and end up falling asleep.
5:45 p.m. Wake up later than I wanted to. I'm supposed to be heading to Philadelphia tonight to visit a friend before he leaves for the Peace Corps. I scramble myself together and miraculously make a 6:40 train.
9:30 p.m. Philly's my hometown, so I'm staying with my parents tonight. We go out for drinks with K's mom, who happens to be in town. She and I take a selfie, and he responds instantly when I send it his way. I'm on quite a high — and more than a little drunk — as I snuggle into bed.
DAY SEVEN 
9:00 a.m. My mom wakes me up to go to brunch. We walk around window-shopping for a while, catching up on things in an oblique type of way. We don't have a close mother-daughter relationship, and there's some unpleasant history there. But I do find myself increasingly willing to be her friend.
3:30 p.m. Head over to Rittenhouse Square to meet my Peace Corps friend. We grab Wawa and chat until it's dark and he has to leave. If I weren't numbed by Prozac, I'd cry.
7:30 p.m. On my way back to New York, so I hit up the apps to line up plans for the night. I remember I'll be in D.C. for a friend's birthday next weekend, so I re-follow an old D.C. flame on Instagram. He immediately follows back, slides into my DMs, and we agree to meet up.
11:00 p.m. No plans, so I'm texting N. I'm dancing around the idea of inviting him to a wedding I'm going to next month. He falls asleep before I can ask, and I take a double dose of melatonin, thinking and half-dreaming about dancing with him for real — maybe to a Taylor Swift song.