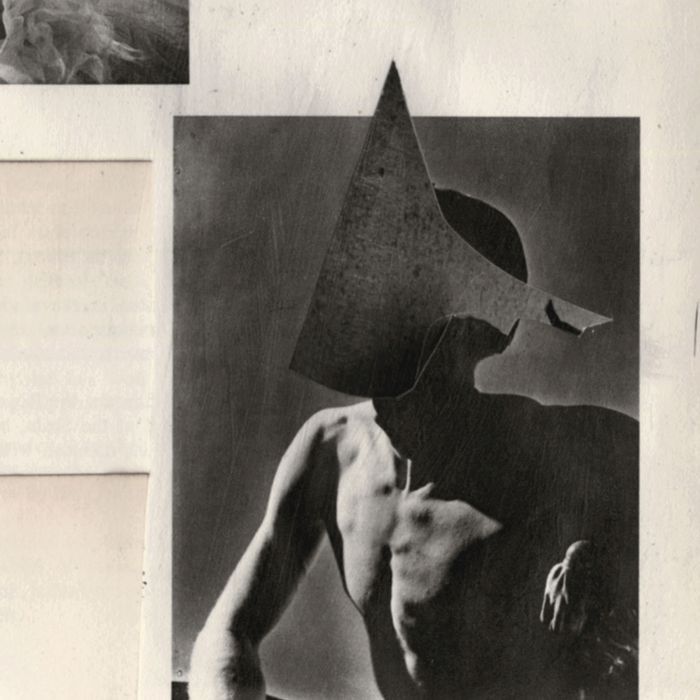 Photo-Illustration: James Gallagher
This week, a stoner trying to get over his ex by running and fucking: 31, gay, single, Williamsburg.
DAY ONE
6:00 a.m. My alarm goes off, but at this point I've already been scrolling through Grindr for the past 20 minutes. I wasn't always an early bird, but this year I forced myself to evolve after a rough breakup. Going to the gym or going for a morning run (I'm training for the NYC marathon) gives me a sense of purpose as I start my day. But this morning, I'm also horny.
7:45 a.m. Three options present themselves: a past hookup I've ghosted; Bond, another past hookup who ghosted me months ago, but messaged asking me to come to his place (on Bond Street) later today for a blow job; and the Brit, a new guy from London who's in town for the day. The Brit and I start talking.
9:00 a.m. I should head to work, but instead I invite the Brit over to smoke a bowl and "hang out."
I'm an assistant at a publishing company. It was great for a time, but now it's been six years and they still refuse to give me a raise or offer me more responsibility. I'm looking for new work, but in the meantime, I've gotten pretty comfortable coasting.
9:45 a.m. Things escalate considerably with the Brit and I let him fuck me. I normally don't do anal with people I've just met, but I was turned on by his surprising dominant side. I guess I like it when a man forces me to do things, especially when his commands are said in a British accent.
10:30 a.m. At work, doing the bare minimum to pass the time.
5:00 p.m. I text Bond to see if he's still looking for that blow job. It's a yes. He asks if I can come over in 30 minutes, after his shower.
5:30 p.m. I arrive at his impeccably designed loft. He's an art and furniture collector, and we've almost ruined many antiques while hooking up. I wouldn't mind dating this guy, but I know he only wants to use me. And I have to be fine with that.
6:00 p.m. Bond comes like a firehose. I clean up using his crumpled t-shirt and he walks me out the door. Maybe I will see him again, maybe not. Immediately after the breakup, I discovered that my ex and Bond follow each other on Instagram. In some twisted millennial way, hooking up with him makes me feel like I'm getting back at my ex.
DAY TWO
6:00 a.m. I go to the gym, make breakfast, do the crossword, and get ready for work without logging onto Grindr. I'm proud of myself. But also, I fooled around with two different guys yesterday, so maybe a break is in order.
10:30 a.m. At work. I catch myself thinking about my ex. We'd been together for 3 years when he blindsided me with a decision to move to LA. He just packed up and left. To pour salt in the wound, soon after he moved, he found someone else and cut off all ties with me. I was still in love with him. I'm still completely confused by all of it and I feel a sense of permanent betrayal. I wonder if I will ever trust a man again.
12 p.m. I get a text from my best friend asking about after-work plans. I normally run in the evening, but I need a break from the monotony of marathon training. We agree to grab dinner at a new Malaysian café.
6:30 p.m. I get home and roll a joint to smoke with my friend before we head out to dinner. He and I used to hook up years ago — another lifetime ago. We met on Manhunt, which I'm not even sure exists anymore. We eventually fell out of touch, but started hanging out again a couple years ago when he moved to New York. And now, we're best friends, and planning to move into a new apartment together. Funny how things happen.
DAY THREE
6:00 a.m. I wake up thinking about my ex again.
8:45 a.m. To distract myself I try to find a guy for a quick hook-up this morning, but no luck. Off to work.
1:14 p.m. This guy J texts me. "Hey! How's your week going?" We've been on two dates in the past two weeks. He's the first guy in a while who I'm mildly attracted to, have a good time with, and who also likes me back. So far, we've only kissed, but I know if we see each other again, I'll probably sleep with him. He's a good guy. Maybe this could be something?
1:20 p.m. We agree to hang out tomorrow evening in Fort Greene — his neighborhood, meaning we'll end up at his place after drinks for sure.
5:42 p.m. I leave the office and hop over to the gym to change into my workout gear before my weekly run-club outing in Central Park. I snap a sexy picture of myself in the changing room and send it to the Hiker — this guy I connected with on Grindr a few weeks ago who apparently is really into runners. He also likes to hike. We've been trying to link up but it just hasn't happened yet. He's upset he's not around this evening to "lick the sweat off my balls" after my run.
6:45 p.m. I take the train back home to smoke a bowl and watch some TV. I'm in bed by 10 p.m.
DAY FOUR
6:00 a.m. Wake up, go to the gym.
12:51 p.m. My body is melting into my swivel chair. I feel exhausted from my morning workout. I open Grindr out of muscle memory and immediately get a message from a stranger: "I'm staying at a hotel nearby and will suck your dick right now."
1:11 p.m. I cave, and I will hate myself for it later. I feel compelled to offer this closeted man in town with his wife and granddaughter (yikes) some excitement. He admires my physique and sucks me off until I come all over his lips.
6:10 p.m. I have some time before therapy, so I pop into a sports store to peruse the running gear. Do I need nipple guards?
6:40 p.m. At therapy, I confess that I'm constantly thinking about my ex and having meaningless sex as a coping mechanism. My therapist tries to show me another perspective, pointing out the ways I have been actively working to better myself the last few months: working out, running, finding a new job, focusing on me. Though it's true and the breakup is getting more tolerable, I know deep inside I will always think of him.
8:05 p.m. I'm running late because of subway delays. I try to take that extra time to recalibrate my post-therapy emotions to get in the right mindset for my date with J this evening.
9:35 p.m. Three vodka-sodas later and we still haven't had dinner. I'm starving, and now fully drunk. We finally eat, but also drink a couple more vodkas.
10:55 p.m. He brings me to his place and we immediately start taking off our clothes. He turns on some music and I end up on my knees giving him the blow job of his life until he comes in my mouth. He tries to reciprocate, but at this point it's pretty late and I'm just too tired, so we cuddle until we fall asleep.
DAY FIVE
6:55 a.m. J jolts me awake, concerned that I overslept. I reassure him that I'm allowing myself a morning without going to the gym, so we cuddle. I haven't had a legitimate sleepover with a guy who isn't my ex all year. I rest my head on his chest, but that makes me think of how I used to cuddle with my ex.
7:33 a.m. J is hard and touching himself. I can tell he wants to get off again so I start kissing him. He rolls on top of me and starts sucking me off until he makes me come. He plops back next to me and continues to stroke himself. I return the favor.
8:01 a.m. In a Lyft on my way back to my place to shower and get ready for the day.
9:00 a.m. I decide I will ghost J and hate myself for it later.
4:00 p.m. Work is slow. I leave early to go shopping with my best friend. He wants me to help him find a bathing suit for his trip to the Catskills with his soon-to-be boyfriend. I can't help feeling jealous. Will I ever go on a romantic getaway with someone?
DAY SIX
6:00 a.m. It's Saturday, but still I wake up early. I'm going to meet a friend in Central Park for a casual 15-mile jog.
10:55 a.m. We finish our run and have a couple doughnuts to reward ourselves. I go to my local coffee shop and see that E is here. E is this guy from around my block who I used to hook up with. Mainly I would perform oral sex on him and occasionally he'd fuck me, but he always avoided kissing me. Romantic, right? Toward the end of whatever it was we had he would coax me to invite him over, smoke my weed, and then leave without any suggestion of hooking up. He's a total asshole, but we exchange niceties and catch up for a bit.
1:10 p.m. I have a free afternoon and decide to meet my younger brother to smoke a joint.
6:24 p.m. A couple more joints and vodka-sodas later I head to a friend's birthday dinner in Koreatown. I feel slightly too buzzed to start a night of imbibing.
8:09 p.m. I end up texting E, "good seeing you, let's hang, blaze, or whatever." It's s an alcohol-induced slip of judgment. He responds: "Who dis." Now I'm officially over it.
DAY SEVEN
5:00 a.m. My alarm goes off at an ungodly hour for a Sunday. Months ago, I stupidly decided to help out at a 7-mile race this morning. I jump out of bed still feeling drunk, throw on some dirty clothes, smoke a bowl, and head to the volunteer check-in at Central Park.
8:35 a.m. The elite runners are finishing up. I spend the next hour handing out cinnamon-raisin bagels to sweaty, shirtless men in tiny shorts.
11:05 a.m. "Wanna come over?" This guy texts me and it couldn't be a more perfect time. We first met the night before the Fourth of July and ended up having sex on his roof, in plain sight.
12:40 p.m. I get to this guy's place. He's already in his underwear waiting for me, and so we get right into it. He tells me I have the best ass ever. I try to enjoy these moments of validation.
7:00 p.m. After the visit, I rush home to veg out for the rest of the day. I'm exhausted, but I feel too wired to nap, so I decide to go for a run instead.
7:41 p.m. Running over the Williamsburg bridge. The sky is peach. The air is crisp. I find myself thinking of my ex again. He will always have a piece of me, and that's going to have to be okay. My legs feel stronger than expected, so I pick up the pace. There's no reason to look back anymore.
Want to submit a sex diary? Email sexdiaries@nymag.com and tell us a little about yourself.