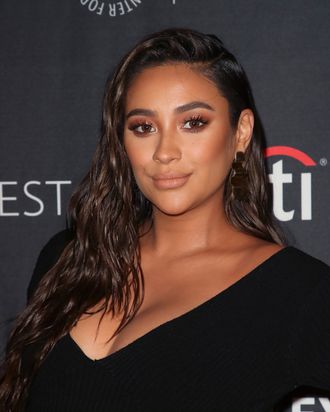 Photo: David Livingston/Getty Images
Shay Mitchell has issued a response, after facing criticism from some fans because she dared to leave the house shortly after her baby was born.
Mitchell and her boyfriend, Matte Babel, welcomed a daughter, whose name hasn't been revealed, just over a week ago. On October 20, Mitchell announced the baby's birth with an Instagram post showing her holding the infant's hand, with the caption, "Never letting go." Several days later, Mitchell and Babel attended Drake's birthday party, where she shared an Insta Story video of them enjoying themselves at the festivities with the caption, "Parents."
Because of her decision to go out and party with Drake, some fans felt justified in criticizing Mitchell and flooded her announcement post with judgmental comments. One read, "Mother of the year award right here!!! As if you seriously could leave your baby to go party?!!!," while another commenter wrote, "You partied 3 days after birth … no respect."
Other fans came to Mitchell's defense, with one pointing out how nobody seems to be calling out her baby daddy: "Stop telling women what to do. Her child is fine. She spent 9 months pregnant, let her live. Why aren't you talking about Matt [sic]?" And then there's this incredible comment: "All of you saying Shay is a bad mom for going out and having fun, saying she's the worst mother ever, don't forget Casey Anthony exists." Which is a GREAT point!
But Mitchell seems unfazed. She addressed the shaming on her Insta Stories, in a video that showed her scrolling through the comments. "Apparently people are really upset that I left three days after having a kid to go out and party. It wasn't three days and I left her with Angel, so," she joked in the clip. (Angel is her dog.)
The baby is the couple's first child together after Mitchell suffered a miscarriage in 2018. The actress, who will appear in the upcoming Hulu series, Dollface, and previously starred in You and Pretty Little Liars, documented her pregnancy journey on her YouTube series, Almost Ready.