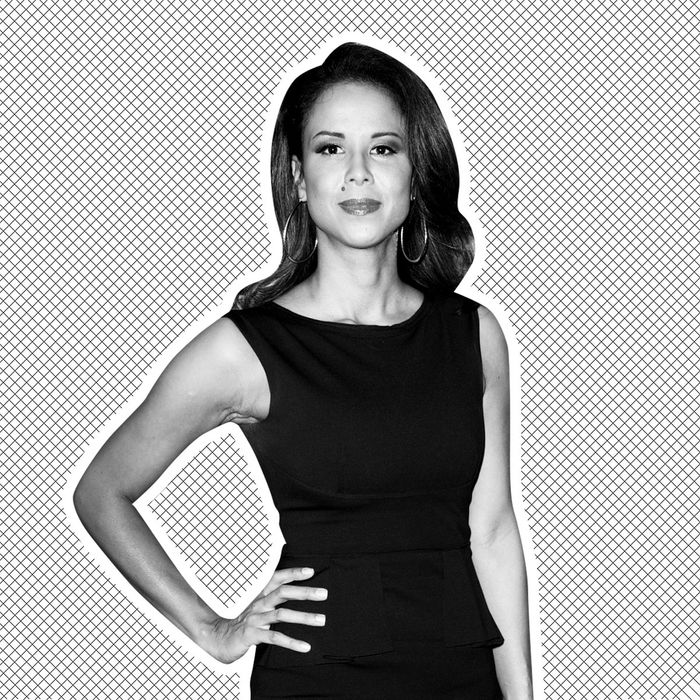 Sil Lai Abrams.
Photo: Getty Images
With the recent release of journalist Ronan Farrow's long-anticipated book Catch and Kill, NBC is facing renewed scrutiny over the seriousness with which the network approaches sexual-assault allegations. In the book, Farrow describes how network executives allegedly killed his reporting into the sexual-assault allegations against Harvey Weinstein, and ultimately forced him to take the story — which would go on to win a Pulitzer — to The New Yorker. Writing for the Cut, Rebecca Traister called NBC's apparent attempt to suppress Farrow's reporting "chilling." Amid the mounting outcry, a woman who describes herself as "one of the many survivors that NBC silenced" is reflecting on her own experience with the network.
In a lengthy essay published today on The Daily Beast, author and domestic-violence activist Sil Lai Abrams claims that NBC News similarly buried her allegations that she was sexually assaulted by Extra host A.J. Calloway and Russell Simmons. (Both men have vehemently denied all allegations against them.) In November 2017, Abrams says that she told MSNBC's Joy Reid that Simmons raped her in 1994 and that Calloway sexually assaulted her in his car in 2006. At the time, Simmons had already been accused of rape, but Calloway had not yet faced any such allegations. Abrams was optimistic that her story — which was scheduled to air on NBC and run alongside a print story published in New York — could bring down an alleged sexual predator.
But what came next left her feeling less hopeful: According to Abrams, Simmons's attorney started to threaten NBC, compelling the network to put the story on hold, even though Reid told Abrams that she had "never done a story that has this much evidence before." Meanwhile, NBC allegedly subjected the pair to "an elaborate and bizarre vetting process," requiring Abrams to turn over hospital bills and legal documents. At this point, in early 2018, Abrams was starting to worry.
"I asked Joy repeatedly if NBC was going to do to her what it did to Ronan, and she said that she didn't think so," she writes. "We both agreed that it would reflect very poorly if word got out that the network had suppressed yet another story of alleged sexual assault."
And yet, Abrams writes that the network did just that. In April 2018, Reid told Abrams that senior management had stopped responding to her questions about the status of the report, and encouraged her to take the story to another outlet. (Reid reportedly withdrew her New York report.) Two months later, Abrams's accusations against Calloway and Simmons were published by the Hollywood Reporter, along with Abrams's initial accusations that NBC buried her story; in February 2019, five more women accused Calloway of sexual assault. (In their response to the Hollywood Reporter piece, NBC said it didn't have enough evidence to air Abrams's story; the network has not yet commented on The Daily Beast story.)
Abrams writes that when she approached Reid in the fall of 2017, she "had no idea that NBC had a reputation for not breaking news about men accused of sexual assault"; that was before Farrow started to slowly open up about NBC's decision to reject his Weinstein story, which he describes at length in Catch and Kill. Today, Abrams wouldn't be so quick to trust the network, which she accuses of putting "women's lives at risk."
She writes: "By refusing to stand by their hard-working reporters' work, [NBC] knowingly placed members of the public in harm's way. By discrediting and minimizing the strength of allegations, NBC is complicit in maintaining structures of gender inequality and rape culture. The bottom line is this: It kept dangerous men from being held accountable."