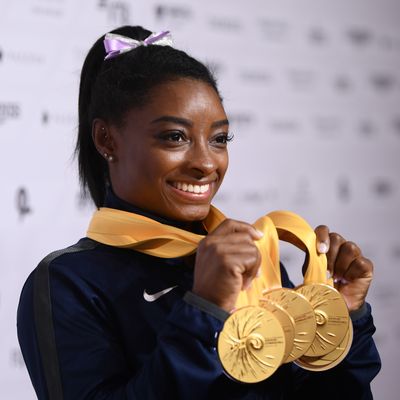 Photo: Laurence Griffiths/Getty Images
Congrats to Simone Biles, who has made history once again by becoming the world's most decorated gymnast of all time. The record-breaking event happened at the World Gymnastics Championship in Stuttgart, Germany, where Biles earned her 24th and 25th gold medals in the balance-beam and floor-exercise competitions. Just last Tuesday, the 22-year-old had celebrated becoming the most-decorated woman gymnast after the U.S. women's team retained its all-around title. Biles kept the momentum going, winning a total of five gold medals in the past week.
At 25 medals total, Biles beat the record previously held by male gymnast Vitaly Scherbo, who earned 23 medals in the 1990s. "I can't be more thrilled with the performance I put out at this World Championships and it only gives me confidence moving forward," she said in a statement, adding, "I'm not a number person." After winning her 21st medal, Biles said she never thinks of the records. "I just go out there and do what I came to do, which is compete for the country."
Biles also recently had two signature moves named after her: a double-double dismount from the balance beam, which is now called the "Biles," and a triple-double in the floor exercise, which is the "Biles II." "I don't know; I feel like it's not me," Biles said recently of her extraordinary athletic prowess. "Sometimes I wonder how I do it. I feel like it's just, like, not me. I wish I could have like an out-of-body experience to witness it, because sometimes I think I'm going crazy."
After ten days of competing at the World Championship, Biles was too exhausted to stand up and walk off when she was finished performing in the floor routine. "I just couldn't move, I was so tired. [I felt like] 'I'm going to stay here, because if I come back up, I'm literally going to be breathing like a dog!'" she said.
Biles will be back for the 2020 Olympics in Tokyo. Let's hope she gets some well-deserved R&R in the meantime.