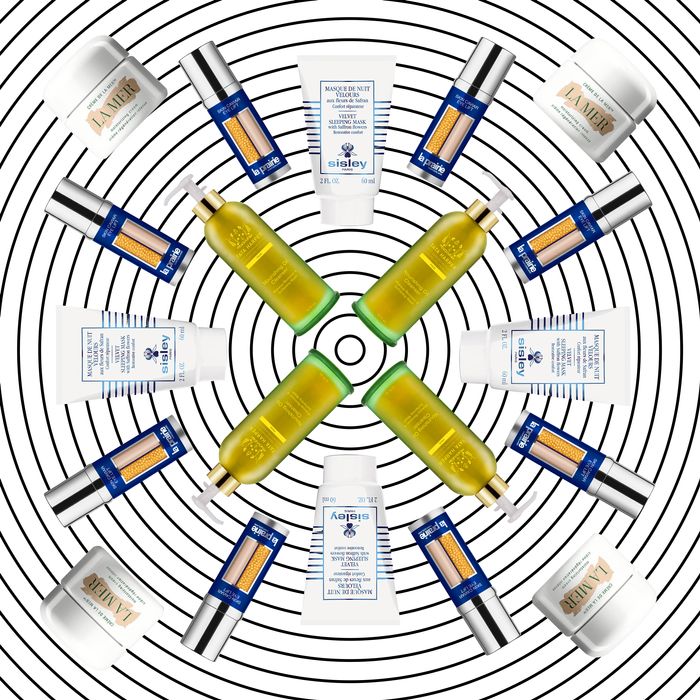 Photo: Courtesy of Saks Fifth Avenue
Skincare can be a daunting world at first — especially if you're still experimenting with what your skin actually wants and needs. Too many options! So many blogs! Everyone has an opinion. So we asked an expert, Saks Fifth Avenue's Beauty & Fashion Director, Casey Winston, what you actually need in your skincare routine. Do you really need to double cleanse, for example? (Yes.) Should you be doing different things morning and night? (Also yes, though if you can't swing that, Winston recommends focusing on your nighttime routine). The ritual and product mix she suggests is definitely thorough, but Winston says to listen to your skin above all. "Have fun with your regimen, and be aware of what your skin needs and when it needs it," she says. "Sometimes it may be as simple as wash and moisturize, and that's okay!" Ready for your most comprehensive skincare guide yet? Let's go.
Step 1: Cleanser (and More Cleanser)
Winston likes double cleansing both morning and night, which is exactly what it sounds like. "Believe me: It is far more effective than a makeup wipe at the end of the night," she says, "and super-clean skin is essential to allow your treatment products to really sink in and penetrate your deeper layers of skin." Start with an oil-based cleanser, then follow up with a gentle foam or cream. "If double cleansing is too much of a commitment for a twice-daily schedule, try to commit to at least once a night," Winston adds.
Step 2: Toner
The word "toner" might make you remember harsh, drugstore astringents that smelled like nail polish remover, but that was the old generation. New-generation products act as "delivery systems for antioxidants, vitamin B derivatives, and even toning acids that help to brighten and moisturize the skin," according to Winston. They'll help remove the last bit of cleanser so you're ready to apply serums and oils.
Step 3: Essence
Winston knows you might be confused at this point. "The question I get most frequently is, What is an essence? It's not a toner, not quite a serum, but still important," she explains. It has more active ingredients than a toner (typically) and can go deeper into the skin. Think of this like a concentrated boost of ingredients before you get into heavier, thicker products.
It also helps to think of the skin like a sponge. "A wet sponge absorbs liquid more easily than a dry sponge," Winston says. "After you wash and dry your face, a toner and then essence are the first steps to dampen the 'sponge' again — priming the skin to allow the forthcoming heavier moisturizing layers of your skincare to penetrate your skin and attract water to it."
Step 4: Eye Serum
Think about serums like long-term investments. They're full of active ingredients, but you can't expect to see results right away. We'll get to facial serums in a bit, but right now we're focusing on the eyes — and you should take care of them before moving onto the rest of your face. "Due to the finer skin and the constant motion, the eye area is usually the first part of the face to show signs of aging," Winston says. She adds that ideally, you'd start incorporating an eye serum into your daily ritual in your 20s.
Step 5: Eye Cream
"Some might think of a second eye product as overkill, but to really lock in the benefits of your more potent eye serum — and provide much needed moisture — you should apply a true eye cream," says Winston. You wouldn't want to undo all of the good work your eye serum is doing, would you? A cream can also help maintain the visible thickness of the eyelid skin. (Yes, that's a good thing.)
Step 6: Heavy-Duty Stuff (Retinol, Serums, and Exfoliants)
Once you're done with your eye serum and cream, it's time to add a face serum. But here's the catch: You'll want to do different serums for day and night. In the morning, Winston likes applying a vitamin C serum, which has nutrients that can help visibly reduce fine lines and help fight sun and pollution damage.
At night, it's time for retinol serum. Winston describes it as a "miracle" that can help fight visible acne, scarring, and discoloration. She warns, though, that some sensitive skin types might react to retinol, so easing into it is imperative. Work up to using it every other night, and start by using it just once a week. On the nights that you're not using retinol, consider exfoliating (no, retinol isn't an exfoliator) to slough away dull, dead skin cells. Look for chemical exfoliators such as AHAs, BHAs, and enzymes to encourage your skin's glowy look, or try a gentle physical exfoliator — your choice.
Step 7: Moisturizer
We're nearing the end of your skincare journey, so it's time to moisturize. "They like to sit on the top of your skin layer to do their best work, so your moisturizer should always be one of your final steps in your routine," Winston notes. You can even have a few moisturizers on hand, depending on how "thirsty" your skin is on a given day (or night).
Step 8: Finishing Touches
If you're at all a skincare fanatic, then you can probably guess what your final daytime step in your skincare routine should be. Say it with us: "SPF!" Don't rely on sunscreen in your foundation or other cosmetic products to do the work, though. "Often, the amount of SPF per application in those products is not enough to adequately help protect your face from harmful sun damage," says Winston.
At night, you can also experiment with a sleeping mask. It's a mask that doesn't require rinsing, and one you can wear all night to soak up all the benefits of products underneath (mostly helping with deep moisture). "It's exactly what your skin needs," Winston says, "when you're looking for that extra oomph in the morning."
All images courtesy of Saks Fifth Avenue.
This is paid content produced for an advertiser by New York Stories. The editorial staff of The Cut did not play a role in its creation.