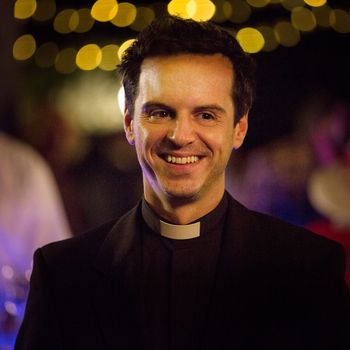 Photo: Steve Schofield/Amazon
In season two of Fleabag, Phoebe Waller-Bridge's eponymous character gets her first genuine love interest in the form of Irish actor Andrew Scott, fondly referred to as "Hot Priest" by the internet. I'd last seen Scott as an evil creep in BBC's Sherlock, and when I sat down to watch the season I was a little bit skeptical that he'd live up to the rabid Hot Priest fervor he'd been inspiring since his priestly debut.
As it turns out, Scott's priest — in the year of many a Marvel superhero, the Game of Thrones finale, and Brad Pitt's movie renaissance — is 100 percent the hottest character onscreen in 2019. But I still couldn't nail down what made this quiet man of cloth so alluring. Was it the accent? A bit, yes. His contradictions? We have to love a smoking, "swear-y," gin-swilling priest. Do I just have a priest thing? Surely not (the clerical collar is definitely just hot on Scott, period).
During her inaugural SNL host monologue this past weekend, Phoebe Waller-Bridge, who both wrote and starred in the show, explained what exactly it is about Hot Priest that has caused such a flurry:
"I call the character 'Priest' in the script, but everyone started calling him 'Hot Priest.' Obviously Andrew is hot, but this 'Priest' character caused such a horn-storm. Andrew and I were trying to figure out what it was about him that was driving women so mental. And we boiled it down and realized, it was because he was doing this one thing: listening. Really, really listening. Try it, guys."