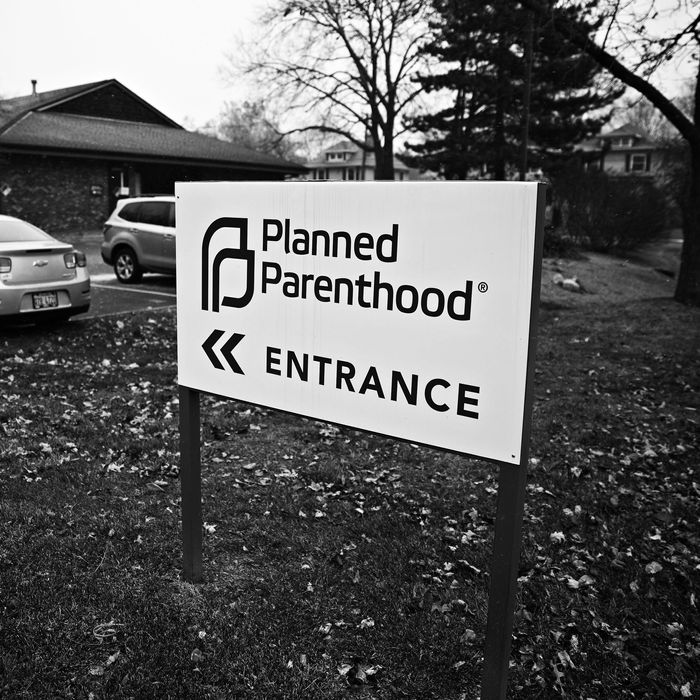 Planned Parenthood.
Photo: Daniel Acker/Bloomberg via Getty Images
The first six months of the 2019 saw relentless attacks on abortion rights at the state level. Five states passed bills banning the procedure after six weeks, before many women even realize they're pregnant. And in May, Alabama signed into law a near-full ban on the procedure. The same month, Missouri — a state with only one abortion clinic — passed an extreme eight-week ban that didn't include any exceptions for instances of rape, incest, or human trafficking. In all, seven states passed similarly stringent laws in 2019, and more are currently considering them.
But over the past six months, judges in nearly all of the aforementioned states have issued preliminary injunctions, which allow patients to continue accessing important reproductive care while the court hears the case in full to determine whether the bill is constitutional. In short, these court orders — also known as temporary blocks — maintain the status quo, allowing abortion to remain legal.
The fight doesn't end here, though. Planned Parenthood's director of state advocacy media, Bonyen Lee-Gilmore, says now is not the time to "rest easy," as states are expected to appeal to circuit courts. Under Trump, these courts have become increasingly hostile to reproductive rights.
"Trump has appointed over 100 judges to the federal bench, and we're seeing circuit courts become more and more anti-abortion," Lee-Gilmore told the Cut. "This is no coincidence. Trump is remaking the judicial branch in order to push these unconstitutional laws forward, and we're seeing these judges stare Supreme Court precedent in the face and create new rules."
Here's what has become of all the extreme bans.
Alabama
Status: Temporarily blocked.
On May 15, Alabama governor Kay Ivey signed into law a bill that was so restrictive even Republicans were divided over it: a near-full ban on the procedure with no exceptions for rape or incest. It would also make performing the procedure a felony in most instances. (The bill does include exceptions in cases when the mother's life is endangered.)
As promised, the American Civil Liberties Union of Alabama and Planned Parenthood Federation of America swiftly filed a lawsuit to block the Alabama law, which was scheduled to go into effect in November. On October 29, though, U.S. District Judge Myron Thompson issued a preliminary injunction, writing that the bill "violates the right of an individual to privacy, to make choices central to personal dignity and autonomy." He also wrote that it "diminishes the capacity of women to act in society and to make reproductive decisions."
Georgia
Status: Temporarily blocked.
On June 28, the ACLU, the Center for Reproductive Rights, and Planned Parenthood filed a lawsuit challenging Georgia's six-week abortion ban, which contains only a few narrow exceptions, including cases in which the woman's life is endangered or the pregnancy is considered "medically futile," and in instances of rape or incest if the woman files a police report. While the law was scheduled to take effect in January 2020, on October 1, District Judge Steve Jones temporarily blocked the ban, the Atlanta Journal-Constitution reports.
"The federal district court today fulfilled its oath to uphold and defend the Constitution," ACLU attorney Sean J. Young told the Journal-Constitution. "This abortion ban has been unconstitutional from start to finish, and today is a victory for the dignity of women throughout Georgia."
Kentucky
Status: Temporarily blocked.
On March 15, Kentucky became one of the first states of the year to sign into law its six-week abortion ban, which was scheduled to go into effect immediately, per the New York Times. (The bill includes exceptions when the woman's life is endangered but not in cases of rape or incest.) That same day, though, the ACLU filed an immediate challenge, and Judge David J. Hale of the Western District of Kentucky temporarily blocked the law on grounds that it was potentially unconstitutional.
Louisiana
Status: Will go into effect only if Mississippi's law is upheld in a federal appeals court.
On May 30, Louisiana governor John Bel Edwards signed a law banning nearly all abortions, including in cases of rape or incest. (It's worth noting that the bill was both sponsored and signed into law by Democrats.) However, the ban will take effect only if a federal appeals court upholds Mississippi's similar ban.
Mississippi
Status: Temporarily blocked.
On May 21, Mississippi governor Phil Bryant signed into law a six-week ban; just days later, Judge Carlton W. Reeves issued a preliminary injunction against it, writing in his ruling that the law "threatens immediate harm to women's rights."
"[The ban] prevents a woman's free choice, which is central to personal dignity and autonomy," he continued in his ruling, which he issued on May 24. "This injury outweighs any interest the state might have in banning abortions after the detection of a fetal heartbeat."
On June 21, Mississippi attorney general Jim Hood appealed the federal judge's ruling to the U.S. Court of Appeals for the Fifth Circuit, according to local outlets. But, on February 20, 2020, a three-judge panel of the Fifth Circuit Court of Appeals upheld the lower court's decision, once again blocking the ban.
Missouri
Status: Temporarily blocked.
On August 27, one day before Missouri's restrictive ban was scheduled to take effect, U.S. District Court judge Howard Sachs temporarily blocked the ban, NBC News reports. In his order, he wrote that the law seemed "designed … as a protest against Supreme Court decisions."
Had Missouri's law gone into effect, it would have banned abortion after eight weeks with with no exceptions for instances of rape, incest, or human trafficking. (It would, however, allow for exceptions in cases of medical emergency). Furthermore, doctors who performed the procedure under the law would have faced up to 15 years in prison.
Ohio
Status: Temporarily blocked.
On July 3, Judge Michael Barrett temporarily blocked the six-week ban that Governor Mike DeWine had signed into law in early April. "This court concludes that [the bill] places an 'undue burden' on a woman's right to choose a pre-viability abortion," Barrett wrote in his injunction order. "The law is well settled that women possess a fundamental constitutional right of access to abortion."
This post has been updated.