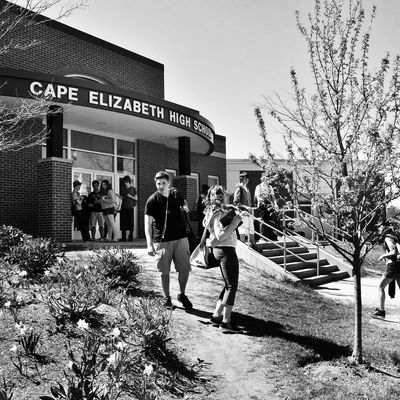 Photo: John Ewing/Getty Images
Three students who left messages in campus bathrooms about what they see as an unsolved problem with sexual assault at their Maine high school have been suspended after a male student who believed he was the target of their anonymous statements "felt unsafe." One of those students, 15-year-old Aela Mansmann, is now suing the school for violating her First Amendment rights.
Mansmann and two other students who have not been publicly identified left sticky notes in two bathrooms at Cape Elizabeth High School on September 16. The notes read, "There's a rapist in our school and you know who it is." Mansmann told the AP she did not say she was a victim nor did she name any other victims or accused abusers.
In a letter to parents last week, principal Jeffrey Shedd said the sticky notes were immediately brought to the attention of school officials, who launched an investigation that included 47 interviews with students. He said administrators "uncovered rumors about two other alleged situations involving a CEHS student who was clearly the intended target of the sticky-note messages." The rumors, according to Shedd, involved "horrifying images" on Snapchat; videos from the platform were sent to officials by students and "did not show what the rumor mill said they showed. Not even close." He also claims the "girls" in the videos that officials saw, who do not attend Cape Elizabeth High School, were interviewed and "explained what was happening" in them.
The student note writers were suspended for bullying on October 4, which prompted a school walkout a few days later of around three dozen of their peers. In his letter, Shedd described the suspended students as having "good intentions" but said they "made a really bad choice." He said that the "young man" who believed himself to be the target of the sticky notes "felt unsafe," missing eight days of school to stay at home, and that his family had asked the school to "look into" the bullying charge. "The students regret their choices, I'm sure," Shedd wrote.
Mansmann, who appealed her suspension, has expressed the opposite feeling. "It makes me angry that I'm being punished for bullying, and a rapist isn't being punished for raping people," she told NBC on Friday. "I felt this was important — that this was common knowledge." The ACLU in Maine is taking her case and filed a motion on October 15 to ask for a temporary restraining order against the school district, arguing that Mansmann was exercising her free speech by taking a "public stance as an ally for victims and survivors of sexual violence." It is unknown whether the other two students are appealing their suspensions.
NBC reports that "Mansmann said allegations of sexual assaults have occurred for years in Cape Elizabeth schools but that the administration hasn't listened to the allegations." Alison Beyea, the executive director of the ACLU of Maine, said the school's decision to suspend Mansmann "will have a chilling effect on other students and make them hesitant to speak up about sexual assault for fear of being punished."