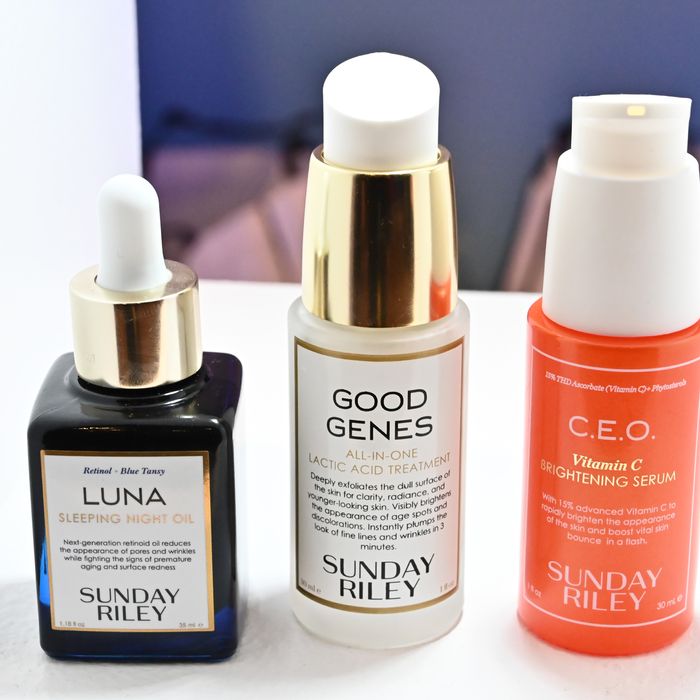 Photo: Astrid Stawiarz/Getty Images for QVC
In October 2018, cult-favorite skin-care brand Sunday Riley faced criticism for asking its employees to post fake positive reviews of its products on the Sephora website. News of the fabricated reviews had gone viral after it was posted by the Instagram account @EsteeLaundry, which focuses on beauty-industry-related drama. The reviews were then corroborated by a Redditor who claimed to be a former employee of the brand, and Sunday Riley subsequently admitted its wrongdoing. Exactly one year later, the Federal Trade Commission has announced its proposed settlement with the brand and is charging it with two violations.
The FTC found that within two years, Sunday Riley managers, including its namesake founder, posted fake reviews of products and asked its employees to do the same. However, not only did they create and sign up with fake accounts to conceal their identities, they also used "an Express VPN" — or virtual private network — in order to hide the IP addresses. (This was owing to Sephora deleting the fake reviews, probably because it noticed they were coming from the same IP address.)
The FTC complaint also pointed to a July 2016 email that Riley wrote that contained detailed instructions on how to write the reviews, including creating a "new persona," and reviewing other non-skin-care products, like makeup and hair care, most likely in order for the review to appear authentic, as well as leaving five-star ratings on the Sunday Riley Products, along with disliking any negative reviews the employee notices. "After enough dislikes, it is removed. This directly translates to sales!!" Riley wrote.
At the time of the scandal, the brand made a statement on its social-media accounts, admitting that it "did encourage people" to post positive reviews, with one reason being that competing brands will "often post negative reviews" to influence opinion.
The FTC ended up finding the brand guilty of two violations: "making false or misleading claims that the fake reviews reflected the opinions of ordinary users of the products" and "deceptively failing to disclose that the reviews were written by Ms. Riley or her employees." However, it seems that Sunday Riley is getting away with just a slap on the wrist. The FTC's ruling basically bans the brand from making any false reviews in the future and "prohibits the respondents from making any representation about any consumer or other product endorser without clearly and conspicuously disclosing any unexpected material connection between the endorser and any respondent or entity affiliated with the product." But it won't have to face a fine from the FTC or issue refunds to its customers.
However, not everyone at the FTC is satisfied with the Sunday Riley ruling. Commissioners Rohit Chopra and Kelly Slaughter, who voted against the settlement, issued a joint statement saying that the FTC's decision would most likely not deter other brands from falsifying their own reviews.
"This settlement sends the wrong message to the marketplace," they wrote. "Dishonest firms may come to conclude that posting fake reviews is a viable strategy, given the proposed outcome here. Honest firms, who are the biggest victims of this fraud, may be wondering if they are losing out by following the law. Consumers may come to lack confidence that reviews are truthful."