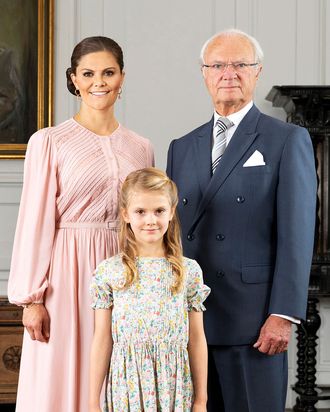 Photo: Sandra Birgersdotter Ek/The Royal Court of Sweden
The Swedish royal family announced a big change today. In an official statement, Swedish king Carl Gustaf announced the removal of the royal highness status of five of his grandchildren. The children retain their titles (prince/princess and duke/duchess) but will no longer be members of the royal house, be expected to perform royal duties, or receive taxpayer funds. Sweden's crown princess Victoria, the monarch's eldest daughter, and her two children will retain their title for diplomatic purposes.
Prince Carl Philip and Princess Madeleine, the younger former royals, seemed happy about the change on Instagram. Princess Madeleine said it had been "planned for a long time," and would give her children a "greater opportunity to shape their own lives as private individuals." Her brother said the same of his kids.
The change is a relatively liberal one for a European monarchy, but Sweden isn't new to more "modern" changes, tweaking its rules of succession in 1980 so that the firstborn child of the monarch (regardless of gender) is heir. The same change was adopted by the British royal family in 2015.
And in terms of titles, some of the British royals have also been lax: Princess Anne (daughter of Queen Elizabeth II) rejected HRH status for her two children. Likewise, little Archie, son of Duchess Meghan and Prince Harry, could have been granted a royal title, but is will go by "Master Archie" (on the presumed wishes of his parents).
While title changes of this nature aren't exactly radical, they do reflect less traditional leanings than previous generations, where decisions like this would have been fodder for entire episodes of The Crown.