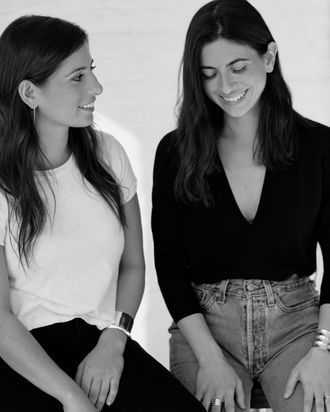 Morgan and Jaclyn Solomon.
Photo: Luca Khouri/Courtesy of Agmes
Consider Morgan and Jaclyn Solomon's jewelry line, Agmes, as an antidote to all of the beyond-dainty jewelry on the market over the last few years. Instead of barely there bangles and chokers with a teensy diamond in the center, Agmes jewelry is heavier, sculptural, and takes up some space. The Sappho Necklace, a baroque pearl choker with an abstract face pendant, sums up their design aesthetic: a simple concept executed with an artistic eye. Plus, all their jewelry is made in the United States, from recycled metals. The sisters left their mutual jobs in fashion — Morgan was a buyer at Bloomingdale's and Jaclyn was a knitwear designer at Proenza Schouler — to start their line in 2016. We spoke with them about shades of beige, microbags, and toe socks.
How do you thank someone for a gift?
J: A handwritten note.
M: I always try to thank people in person, or at least call them if we're not in the same place. That way no matter how busy we get, we get some time to catch up, too.
What would you never wear?
M: Sequins.
J: A sweater vest.
What's your dream vacation?
J: Japan.
M: I like my vacations to be relaxing and warm. My boyfriend took me to Cuixmala last year for my birthday and it was all my favorite things in one place — beach, farm, and all sorts of animals roaming around (zebras, giraffes, horses…)
What's a good book on your coffee table right now?
M: Canines of New York. We got a new puppy last year, and ever since have been given so many adorable dog books!
J: Katachi: Japanese Pattern and Design, in Wood, Paper and Clay.
Last show you binge-watched?
M: The Americans.
J: Stranger Things. 
Secret to hosting a good party?
J: Great music and great friends.
M: Plan as much as you can in advance — but once the party starts, just be present and have fun.
What is a trend that you like right now?
J: Sneakers.
M: Shades of beige.
One you don't understand?
M: Micro handbags.
J: I just had a baby, so I'm not up-to-date on the current trends.
Favorite museum / gallery?
Both: Guggenheim in New York, Naoshima Island in Japan.
Shoes you wear most often?
J: White Adidas sneakers.
M: Acne leather sock boots.
What's your favorite…
Pajamas?
M: Eberjey pajama set.
J: Vintage Ralph Lauren button down and my husband's pants.
Scent?
J: Something subtle, I'm pretty sensitive to strong smells.
M: I don't have a sense of smell so I don't wear perfume or buy scented candles. Our mom has a nontoxic skin-care line, Leaf + Stem, and I use their products religiously. They're made from all natural ingredients so the scents are subtle, like honey and rose water.
Socks?
M: Tabio toe socks or slipper socks. They're made in Japan, but Jaclyn introduced me to this shop in Paris and now I never miss it on our Paris Fashion Week trips.
J: Maria la Rosa.
T-shirt?
J: Creatures of Comfort used to make the best ones.
M: Now that it's getting colder out, Joseph's cashmere T-shirts.
What's your favorite place in your home/office/studio?
M: The John Denver sanctuary in Aspen is my favorite place to come to work. It's beautiful, I love the sound of the water, and there are inspiration quotes inscribed on rocks all around. I love to spend the day here sketching and picnicking.
J: This is one of the walls in my apartment. I love collecting books, plants, ceramics, and these are a few in my collection. Whenever I'm in need of inspiration, I look here.
Shop the Story
If you buy something through our links, New York may earn an affiliate commission.