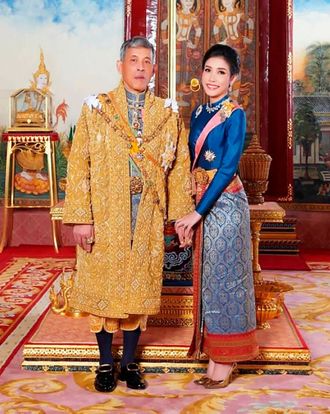 King Vajiralongkorn and former Royal Consort Sineenat.
Photo: Shutterstock
The Thai royal court has been consumed by scandal this week. On Monday — just a few short months after he named 34-year-old Sineenat Wongvajirapakdi as his official royal consort — King Vajiralongkorn, 67, announced that he was stripping her of her title. In an order, he wrote that she was "disloyal," "ungrateful," and trying to supplant the current queen of Thailand, the king's fourth wife, Queen Suthida Bajrasudhabimalalakshana. All images of Sineenat were erased from the palace website, and an unofficial Instagram account with her name was shut down.
"Royal Noble Consort Sineenat is ungrateful and behaves in ways unbecoming of her title. She is also not content with the title bestowed upon her, doing everything to rise to the level of the queen," the palace said in its statement.
It's unclear what exactly Sineenat did to prompt her demotion, but splits from the king have not ended well for his three previous wives, and experts worry about what this announcement signals for the state of the Thai monarchy. Also a part of this saga: a tiny poodle in army fatigues. Below, we unpack this drama.
The king announced Sineenat as his consort back in July … two months after he announced his marriage
Days before his official coronation back in May, King Vajiralongkorn revealed that he had married his fourth wife, Suthida Tidjai, 41, and that she would be queen. Suthida is a former flight attendant who, per the New York Times, "later became a general and helped command the king's bodyguards." (Cool.)
Just a few weeks later, on July 28 (his birthday), the king announced Sineenat as his official consort, or secondary companion to the king. She was the first royal consort in Thailand in almost a century.
Sineenat, a trained nurse who graduated from the Army Nursing College in 2008, had also served as an army major general, and a member of the king's bodyguard corps before her ascendancy to consort. Pictures and video of her and the king first started to circulate in 2016, when they were spotted in Germany "wearing skimpy clothes and fake tattoos as they cruised malls and tourist spots," according to The Guardian.
In August, pictures of Sineenat broke the internet (or at least, the royal palace website)
The website of the Royal Household Bureau went down for nearly two days in August, after the palace posted 60 pictures of the king and his consort, including ones of her in a plane cockpit wearing only a camouflage bra, and ones of her in full combat gear, holding the king's miniature poodle, who is also wearing its own combat gear.
The images, as well as a lengthy biography of her, have been scrubbed from the site.
It's unclear what exactly Sineenat did to fall from favor, or what will happen to her now
In addition to suggesting that Sineenat had been trying to undermine the queen and take her place, the palace also said that she had been "ambitious," "insubordinate to the king and queen," and that she caused "the royal household staff to be discordant."
Tamara Loos, professor of history and Thai studies at Cornell University, told the BBC that Sineenat may have played her cards wrong with regard to the system of patronage behind the scenes. She added that the language of Monday's demotion announcement is "reminiscent of an era in which women could not have direct political power and so the ways you talked about women with 'influence' was that they were ambitious."
While no one can say what exactly will happen to Sineenat now, Loos believes that this latest action points to a troubling rise of "a modern absolute monarchy in Thailand."
Royal breakups have not ended well for the king's former wives
Due to Thailand's strict and draconian lèse-majesté laws, which prevent anyone from speaking negatively about the royal family, the king's former wives have been prevented from talking openly about their experiences.
What we do know: According to Reuters, in 1996, the then-prince announced that he was divorcing his second wife, Sujarinee Vivacharawongse, by covering the palace in posters of her, which ordered her to be banished from Thailand for adultery, fraud, and abusing their daughter. She and their four sons fled to the United States, where they still live now.
His third wife, Srirasmi Suwadee, was a former lady-in-waiting at the palace. The couple sparked a scandal in 2007, when pictures emerged of the lavish birthday party they threw for their poodle, Fufu. In them, Princess Srirasmi can be seen hand-feeding birthday cake to the dog, wearing only a G-string. The king divorced Srirasmi in 2014, and she now lives outside of Bangkok. Many members of her family, including her parents, uncle, and three brothers, were later arrested for allegedly violating the country's lèse-majesté laws. They all remain in prison.
In short, this is not a great sign for Thailand
Not only is it unclear what will happen to Sineenat and her family, this chapter marks a troubling turn for the monarchy.
"The king is sending a signal that he can't be touched and that once you're out of favor with him, you have no control over your destiny," professor Loos told the BBC. "Each move of his, whether economic, military or familial, reveals his unfettered abuse of power."