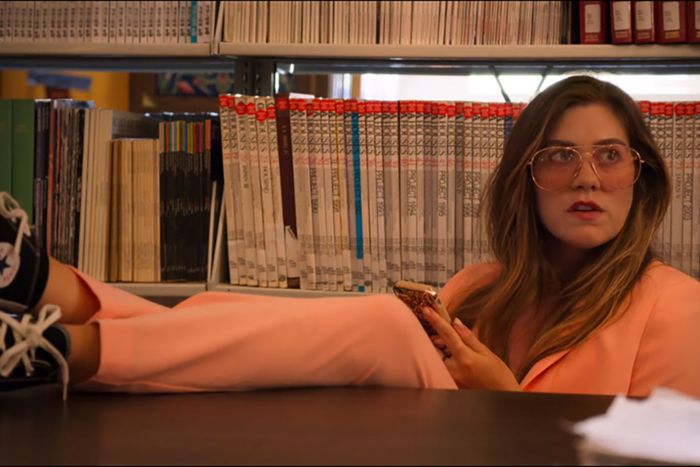 Everything about Ryan Murphy's newest series, The Politician, feels excessive, but the fashion might be the wildest part. A melodrama about a high-school election, the show is full of teen characters who look nothing like actual teens in their pearls, heels, and full-on suits — but they do look fabulous. In fact, the styling — and the suits in particular — is what kept me watching the show despite its absurd plotlines and over-the-top characters. Below, I've compiled a list of the ten most power-bitch suits in the freshman season of The Politician. What defines "power-bitch" status? An outfit that demands attention, respect, and, of course, envy. Read on for the best ones.
1. McAfee's Retro Peach Suit
The first time we see Laura Dreyfuss's character, McAfee Westbrook, she is dressed in a colorful peach power suit, paired with a pink T-shirt, orange-tinted aviators, and classic high-top black Chuck Taylor's. Hyperambitious Payton Hobart is running for class president, and McAfee is one of his campaign managers. While her blunt comments and fierce competitiveness may come off as harsh, McAfee's casual, Katharine Hepburn–esque take on suits gives her a cool-girl edge that the rest of Payton's posse lacks.
2. Georgina Hobart's Pajama Suit
This chic, impractical outfit sets the tone for all of Gwyneth Paltrow's outfits throughout the season — elegant, feminine, yet wildly inappropriate for the occasion at hand. Paltrow plays Payton's mom, Georgina Hobart — a housewife turned artist turned activist who will give up anything for her son's happiness. In the second episode, she floats onto the bed of her son like a celestial being to counsel him through his grief over losing a close friend. On someone who would rather make a statement with her clothes than with her words, this all-white blazer, pants, and silk cami combo says: "I'm wealthy. I'm comfy. And I can do whatever the hell I want (except maybe run away with my forbidden equestrian lover)."
3. Payton Hobart's Alphabet Sweater
Who said men can't be power bitches too? Each episode, Payton manages to one-up himself in terms of his suits; I can't help but wish every man I knew dressed like him. It's important to note that suits — even fitted business ones — do not always need to be matched with a button-up shirt. Pairing them with jumpers, like this playful one from Loewe, adds some intrigue to a look without feeling over-the-top or conservative.
4. Georgina Hobart's Cape to End All Capes
Paltrow's character proves capes are business casual in this millennial-pink set from Duro Olowu. Remember when I said practicality wasn't her thing? Whether she is gardening in a Carolina Herrera gown or discussing trust funds in this look, Georgina Hobart knows how to do it in style. She looks amazing, and now I know what I'm wearing the next time I'm called on to fight for my son's inheritance.
5. Skye Leighton's Pattern Mixing
While The Politician exists in a world ruled by preppy rich kids, Skye Leighton feels like a breath of fresh air with their effortless androgynous fits. Skye's position on the show changes as they switch from Payton's rival to running mate and back again. But one thing stays constant — their impeccable sense of street style. Throughout the season, we see them in an array of oversize untucked button-ups, coveralls, and even a few sweatshirts. This look from episode three is one of my personal favorites. The yellow pinstripes, cheeky red socks, and fedora scream "retired Miami local," but sometimes the biggest power move is to dress down when everyone else is dressing up.
6. Payton Hobart's "If Steve Jobs Wore a Suit" Suit
This suit from episode three ties into one of the show's few serious moments, where Payton purchases all the firearms from the local gun shop to have them all melted down as a message about increased gun control. His teal-speckled sports coat and simple white mock neck fit the tone of the scene, making him look put-together without being distracting or flashy.
7. McAfee Westbrook's Monochromatic Set
In episode four, McAfee not only pushes the boundary of her friendships (with a secret love affair with the enemy) but also her suit choices. The set she wears elicits more outfit envy in me that I ever thought possible. At first glance, it might appear that she's wearing an orange watercolor-esque matching blazer and skirt — but no. They're shorts! Something about a powerful women coming into her own, all while rocking a pair of business-casual shorts, brings me so much joy.
8. Payton Hobart's Red Power Suit
If we're talking power suits, how could I not include this little red number? In a surprisingly topical episode on undecided voters, Payton is shown as an overly aggressive, power-hungry candidate who feigns kindness and relatability for votes. His suit's bold hue, along with the formal vest, perfectly portray the distance he feels toward voters.
9. McAfee Westbrook's '70s-Inspired Suit
I'll admit — I have no underlying theory behind why McAfee wore this suit in this specific scene. I just like it, okay? The deep magenta matched with a '70s-inspired chevron sweater offers a nice change from her usual pastel look. This is the first of many jewel-tone sets that McAfee rounds out the end of the season with. Perhaps the deeper the color, the more daring the person? We'll go with that.
10. Hadassah Gold's Hot-Orange Number
Wait — Bette Midler is in this show too? In the finale of the series (which jumps ahead a few years to New York City), we take a look into the world of local city politics. Midler plays Hadassah Gold, the outspoken chief of staff to New York State Senate Majority Leader Dede Standish. You know what they say: Behind every great woman is another woman in an even better suit. And this bright-orange one takes the cake. Paired with a statement necklace, stilettos, and thick frames, it's proof she's not afraid to show people who's boss.