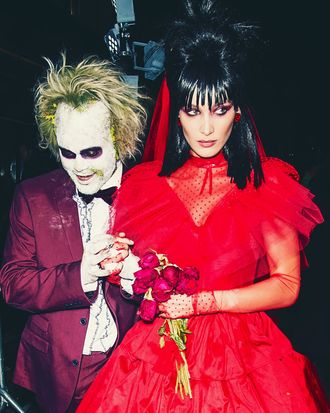 Photo: Gilbert Carrasquillo/GC Images
For most adults, Halloween weekend consists of squinting to make out the cat-ear headbands through a sea of people in a dimly lit space, but for celebs it's a chance to embody a fantasy by flawlessly reproducing an iconic bit of cultural ephemera and selecting the perfect wig.
Here's the best of the best from Halloween weekend part one, a.k.a. the only good Halloween weekend of 2019 because we are not digging through a pile of dirty laundry to resurrect last week's poor decisions.
Ashley Graham did Jessica Rabbit, absolutely no complaints.
Here's Tracee Ellis Ross as Lupita Nyong'o's character from Us. It was hard to pull off a jumpsuit costume this year — how to distinguish the Billie Eilishes from the Felicity Huffmans from the tethered? — but Ross of course came through.
Kylie Jenner dressed daughter Stormi as … her Met Gala look.
Halsey dressed like two separate icons — Marilyn Manson and Cher — confirming her relationship with Evan Peters in the process (he went as a member of ICP, which I guess is somehow loosely related to Marilyn Manson and Sonny).
I really do like Jessica Biel as 'N Sync–era Justin Timberlake (her husband) and Justin as a microphone. The only choice that could have made this better is if they had gone as each other.
Ana Fabrega's Harley Quinn was spot-on.
Elizabeth Hurley needs to win some award for having the most aluminum foil on her fake Kill Bill sword and still looking great.
Nina Dobrev did my favorite Billie look: neon-green roots.
Deep admiration for the perfect fit of Cardi's nurse's uniform.
Gabrielle Union and her 11-month-old daughter Kaavia brought it.
Kathy Bates was a cat from Cats and everyone else would have been, too, if the movie had come out in a remotely reasonable time frame. Not only is this Halloween 2019, it goes on my 2020 vision board.