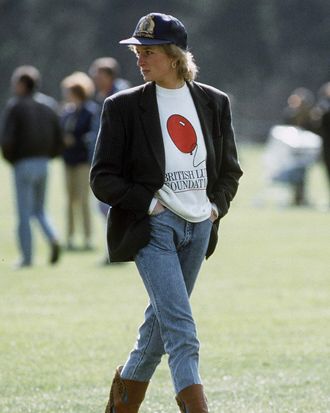 Princess Diana wearing a blazer and baseball cap.
Photo: Tim Graham/Tim Graham Photo Library via Get
Fall is, indisputably, the best time for dressing. The temperature has cooled enough to play around with layers, but not so much that your outfits are buried under enormous, Michelin Man comforter coats. (I know fall isn't the same everywhere, and that a lot of people live in places without seasons. But part of the cost of living in San Diego and getting to enjoy 266 sunny days a year is having to put up with sickly, vitamin-D-deficient bloggers from the Northeast making sweeping statements about the weather. I'm sorry, I don't make the rules!)
Anyway, fall is here, so, as they say, we can really start dressing. And while the season brings with it a dazzling array of possible looks — the backward cardigan, the combat boots, the runny nose and low-grade cold that will stay with you until April — one ensemble clearly transcends the rest. It is both business and casual, sporty and sophisticated, elegant and every-so-slightly sleazy. It is the blazer-and-baseball-cap combo.
If you're skeptical, I understand. Often, this pairing is undertaken by wealthy, sinister businessmen who want to seem laid-back. It says, "I'm on a mandatory company retreat, trying and failing to connect with my employees by talking about how having a private jet isn't all it's cracked up to be." It says, "My life has been so entirely consumed by my career that I wear a blazer to bed, and all of my personal relationships are suffering, but hey, check out my fun hat!" It's the outfit Logan Roy wore to meet the Pierces on Succession, and that Donald Trump wears whenever he walks outside.
To add insult to injury, last year, the look suffered a near-fatal blow when it was photographed on former New York City mayor and current Trump lawyer–slash–skin suit full of angry subway rats, Rudy Giuliani.
First of all, let's go Mets. Second of all, we cannot allow these old, angry men to monopolize what is truly a stupendous outfit choice. That it has a whiff of dirtbag only makes it more chic, in my opinion. It's the Shia LaBeouf of businesswear.
And let's not forget some of the look's finer trailblazers, like Princess Diana, whose oversized blazer/baseball cap combos were so iconic that in August, they were recreated by Hailey Bieber for Vogue Paris.
More recently, the look has been seen on model and bouncer Gigi Hadid, who successfully channeled grungy '90s nostalgia, and Luka Sabbat, who successfully demonstrated how to style the look for when the hot aliens come to take over.
Most recently of all, the look was seen on me, who wore it today. I paired a plaid blazer with a blue baseball cap from my cousin's university. I felt professional, but also cool, and if someone had come up to me and suggested we do securities fraud or market manipulation together, or some other wealthy business crime, I think I could have contributed to the scheme in a meaningful way, at least aesthetically.
So let your fall be formal, and also slightly sleazy. Enjoy the cool weather in a snazzy sport coat, and shield yourself from the autumnal drizzles with a nice ball cap. And if you're in San Diego, keep enjoying the sun, I guess.
Five Blazers That Are More Gigi Hadid Than Rudy Giuliani
Available in sizes 14–28.
Available in sizes 00-28.
Available in sizes 32 FR–42 FR.