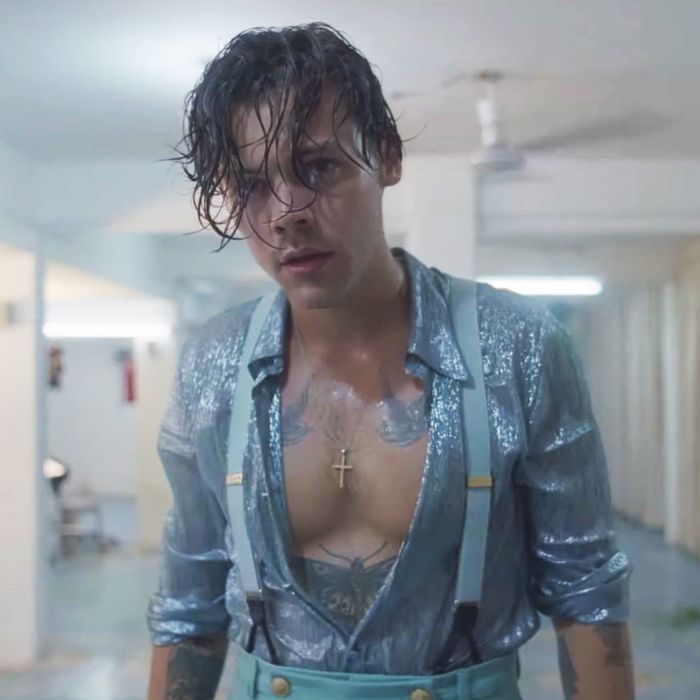 Harry Styles.
Photo: Harry Styles/Youtube
Today, we're celebrating a holiday that's technically unofficial but indisputably important: New Harry Styles Music Video Day.
At the stroke of midnight on Friday, Styles dropped "Lights Up," his first new single in two very long years. But the actual song isn't even the most exciting part of this momentous day. Instead, we're all basking in the glory of the accompanying music video he released alongside it, which we've already deemed a bonafide shrooming anthem. The three-minute-long video, as a whole, is gloriously sexual, fun, and trippy. But, as does all high art, it deserves a much closer reading.
First, let us stop and admire the splendor of the orgiastic party, where a shirtless Styles sways in a sea of horny people who are eagerly feeling each other up. (Great sexually fluid vibes here!)
At one point, he's floating face down in pink water, and then he's dancing, and then he's under some sort of light beam, and then he's disoriented. Understandable! I have major whiplash, but in a good way.
He's really going through it. (Hot.)
Here he is bravely (and dangerously) riding backward on the back of a motorcycle with his arms outstretched. Please don't do this IRL!!
He's downright euphoric in the video, presumably because he's tripping. (Technically, this isn't confirmed, but everyone knows how much Styles loves his psychedelics.)
And to end on one last, extremely important sight: Tongue.