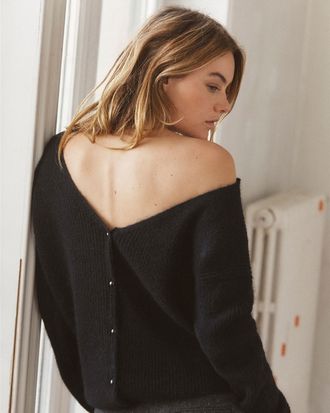 The photo that inspired it all.
Photo: Sézane
Oh, the sexy cardigan, you unattainable minx. No piece of clothing consistently promises so much yet delivers so little. Designers, celebrities, Rihanna can periodically revive the cardigan. In fact, this fall there's a cardigan trend happening, and we are all being exhorted to wear the sweaters as tops, unbuttoned, as part of a set, and so forth. But in my experience, a short one feels dowdy, an oversize one feels schlubby. I bought a cardigan from Everlane, but I had a plan, courtesy of an image I saw on Pinterest: I would wear it backward.
What I didn't like about the cardigan frontward — namely, the predictability — would literally be reversed. The banal, not-too-low neckline and ever-so-slight crop would be surprising backward. A slight dip in the back is more unusual (and sexier) than a V-neck in front. The buttons down the back would be unexpected and charmingly impractical. Think Céline Dion at the Oscars in 1999. People hated it then, but it's iconic now!
I know you're dying to hear the results of my experiment, so I'll tell you: It worked. In fact, it has worked with several cardigans, including the Everlane crop and a long but still slim-fitting one in bright pink. It always feels like a special little treat, and I get compliments almost every time. I don't normally take styling risks; I'm not one to layer a dress over pants. But this one is so easy.
I feel I should admit that when I convinced my colleague Allison Davis to try this trick, she said she ended up looking like Uncle Fester because the front was too high. So if you don't like a high neck to begin with, this may not be a trend for you. Though in my experience, the perfect cardigan for wearing backward has a V-neck and is either cropped above your hips or oversize past your hips.
But my advice is just to give it a try. Get yourself a cardigan with a V-neck that's either cropped or hits mid-thigh — it'll look strange if it hits smack on the hips. It's fun to feel like you're a master stylist, wielding clothes in ways so creative that people will stop you in the street to ask, "Hang on, is your sweater … backward???" Diana Vreeland, one of my favorite dispensers of impractical, lighthearted advice, apparently said, "I always wear my sweater back to front; it is so much more flattering." To be honest, I'm not convinced that's true. But the overall effect is much more interesting. Which is a thousand times better than flattering.
Four Sweaters That Would Look Great Backward
Available in sizes XXS–XL.
Available in sizes 14–24.
Available in sizes XXS–XL.
Available in sizes XS–XL.
If you buy something through our links, New York may earn an affiliate commission.