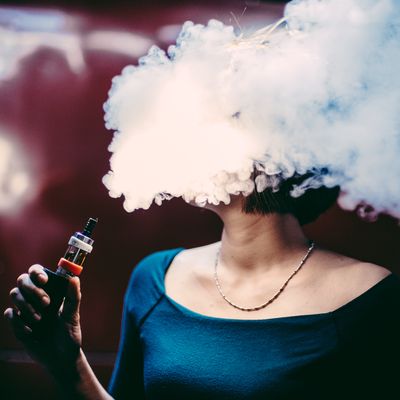 Photo: Nazir Azhari Photography/Getty Images/EyeEm
The number of vaping-related lung injury cases in the United States just surged to over 1,000, and the stories coming out of emergency rooms where affected patients are being treated have gotten even more horrifying. The lungs of injured e-cigarette smokers, most of them young people, actually resemble the lungs of chemical warfare victims, and doctors are speaking out about the crisis.
Yesterday, the CDC released a report that the U.S. has now seen 1,080 cases of vaping-related lung injuries since March, up from 805 just last week. There have been at least 19 deaths. Of the people who became ill, almost 75 percent were men, and two thirds were between the ages of 18 and 34. Worse, experts still don't know what exactly is causing the worst symptoms, whether it is THC products, Nicotine, synthetic cannabinoids, CBD, and/or flavored e-liquids that are used in addition to other marijuana and nicotine products. (One recent analysis of 578 lung-injury patients nationwide did find that 78 percent had used THC, compared with 17 percent who had used only nicotine, per the Los Angeles Times.)
The report came a day after the Mayo Clinic released an even scarier study in the New England Journal of Medicine that emphasized the severity of the vaping-related injuries. In terrifying detail, the study described truly staggering findings in the biopsies of 17 patients.
Dr. Brandon T. Larsen, a surgical pathologist, told the New York Times that all 17 cases showed "a pattern of injury in the lung that looks like a toxic chemical exposure, a toxic chemical fume exposure, or a chemical burn injury." "To be honest," he said, "they look like the kind of change you would expect to see in an unfortunate worker in an industrial accident where a big barrel of toxic chemicals spills, and that person is exposed to toxic fumes and there is a chemical burn in the airways." If that wasn't harrowing enough, he went on to say that injuries also resembled those seen in people exposed to poisons like mustard gas during World War I.
Patients are confirming that these comparisons aren't hyperbolic. An 18-year-old in Illinois who was hospitalized for more than a year after a vaping injury was told he now has the lungs of a 70-year-old, and can't walk up the stairs without wheezing. Another 25-year-old in Utah who bought a new type of flavored vape juice, was hospitalized the next day, and suffered severe lung damage, now has a diminished capacity of 25 percent. Other patients nearly died when e-liquid filled up their lungs with oil, mimicking pneumonia.
The CDC has urged consumers to avoid the use of all vaping products, but increased rates of use — especially among teens — point to the crisis being far from over. Principal director Dr. Anne Schuchat said yesterday that, in fact, "the data we are getting does not suggest this has peaked."