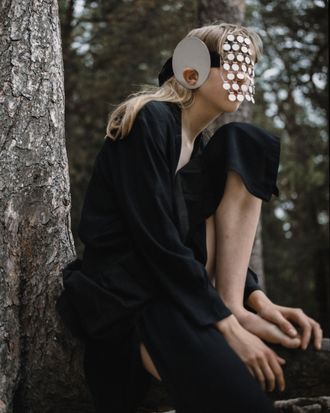 In general, elaborate masks are no longer a part of everyday life. The fact that we don't have masquerade balls regularly anymore is a failure of modern society. But Claudia Lepik, a young Estonian artist who just finished a residency at the 92Y in New York, has me almost convinced to wear jewelry that goes across the bridge of my nose.
Her jewelry is heavy, and intimidating in a punk-ish way. But it's also surprisingly playful. Lepik's range of work includes a chainmail mask that looks like it could be made of paillette sequins, a black round disk that hooks on the bridge of your nose and reminds me of Lady Gaga in her "Paparazzi" video, and a thin metal pince-nez that looks like something out of a Dali painting (that particular piece is a work in progress).
It would be too much to say that facial jewelry is having a moment, but the pieces, which were once only seen in high-fashion editorials, are now being championed by a crop of young designers, seemingly for everyday use. One designer uses facial jewelry to combat AI facial-recognition technology, and another uses nose jewels to make a statement about rhinoplasty. The face is now a canvas for the avant garde — from Giambattista's glitter facial to makeup artists who use their faces as canvases for paintings to extreme facial jewelry.
Unsurprisingly, Lepik is inspired by unconventional designers like Rei Kawakubo and Ann Demeulemeester. She has a similar aesthetic. When we met at her studio at the 92Y, she was dressed in a drape-y, all-black outfit and heavy shoes. Like many designers who make larger-than-life creations (namely, Kawakubo), her personal style is pared down. "There's no occasion to wear this stuff in Estonia," she says with a shrug. "but in New York I can imagine someone wearing one of the pieces down the street or to a party." She will wear one piece — a delicate chain that attaches from a nose ring to an ear piercing.
Lepik's residency at the 92Y has come to a close, but she spent a month in New York going to museums (she did visit the Camp exhibit at the Met, which had more than enough dramatic jewelry). Next, she'll head back to Estonia, where she'll continue to make her dark, brooding jewelry. Don't be surprised if some of it makes it to the edgier realms of Fashion Week next season.
Lepik's work will be on display during at 92Y's Hall of Mirrors during NYC Jewelry Week, from November 18-24.