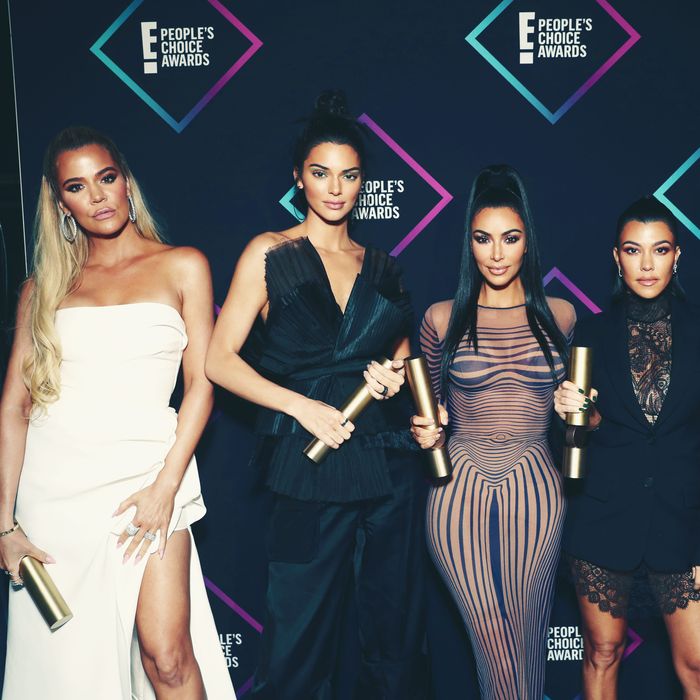 Photo: Todd Williamson/E! Entertainment/NBCU Photo Bank via Getty Images
I can't pinpoint exactly when I stopped keeping up with the Kardashians. Given the volume and ceaselessness of Kardashian-related press — their businesses, the web of celebrities and public figures in their drama web, their regular red-carpet appearances — it's as difficult to ignore them as it as a major weather event. But at some point, like so many others, my capacity for Kardashian-related news reached a saturation point.
The family has nevertheless remained in the zeitgeist, and anyone using the internet might find themselves encountering an errant piece of Kardashian news, like I did the other day via a link from a niche tech website discussing Kanye West's Yhandi album being released as iTunes ringtones.
It's incredible — and a nightmare, really — revisiting just over a year's worth of Kardashian goings on. But I've gone ahead and done it for you so you don't have to; you're welcome and I'm sorry.
December 2018
The Kardashian-Jenner clan shutter their subscription-based apps.
A sparse family Christmas card is released; drama and schedule mix-ups means it only features a fraction of the clan. There are several unrecognizable babies.
January 2019
Kim Kardashian West confirms that she'll be having a fourth child via surrogate with Kanye West.
Kris Jenner announces that daughter Kendall Jenner is "brave and vulnerable" in anticipation of her sharing "her most raw story in order to make a positive impact for so many people and help foster a positive dialogue is a testament to the incredible woman you've become." The world holds their breath.
Kendall announces that she's the new official face of the acne skin-care line Proactiv (that's the aforementioned "most raw story").
Cyntoia Brown is granted clemency. Brown was improperly tried as an adult and sentenced to 60 years in prison for the murder of a 43-year-old man, who solicited sex from her when she was 16. Kim had tweeted in 2017 that she'd called her own lawyers to help with Brown's case.
February 2019
Khloé Kardashian's on-and-off boyfriend (and the father of her child) Tristan Thompson, apparently cheated on Khloé with Jordyn Woods, Kylie Jenner's live-in best friend.
Woods goes on the Pinkett womens' Facebook show Red Table Talk to tell her side of the Tristan Thompson alleged cheating story. She denies anything romantic, noting that Thompson (a serial cheater) kissed her on the lips as she was leaving a party. Khloé sends off a series of incensed tweets in response. Woods is exiled from the household (and the family, it seems.)
March 2019
Khloé shifts gears a bit and blames Thompson for the scandal: "Jordyn is not to be blamed for the breakup of my family. This was Tristan's fault" she wrote in a Tweet.
Kylie is named the world's youngest billionaire in Forbes.
April 2019
Kim inexplicably covers Vogue's Camp-themed issue.
Kourtney Kardashian launches "Poosh," a wellness and lifestyle brand; Goop-lite, if you will.
Kim announces she is studying to become a lawyer via an apprenticeship program.
Khloé is announced as an exec producer of Twisted Love a six-part true-crime series that will premiere in 2020.
May 2019
The Kardashians attend the Met Gala, Kim at least tries to do camp in Mugler; Kendall and Kylie accidentally show up in ugly stepsister cosplay.
Oxygen greenlights a prison reform documentary by Kim; CNN reports that she's helped free "17 inmates in 90 days"; via surrogate, Kim has a baby boy she names Psalm.
Kylie launches a skin-care line that includes an almond scrub. It's really terrible for skin.
Kylie gets Travis Scott a Lamborghini for his birthday.
June 2019
OJ Simpson unfortunately joins Twitter; he denies rumors that he had an affair with Kris and that Khloé is their kid.
Kim gives a speech a the White House about hiring and reentry for ex-criminals. It's not the first or her last visit.
The Tristan Thomspson cheating episode of KUWTK airs. Khloé opens up about suffering from migraines. She describes "throwing up blood" and full blindness in her left eye.
Kim announces she is launching a shape wear line called "Kimono"; backlash over the name ensues.
July 2019
Kim calls Donald Trump about A$AP's Rocky's arrest in Sweden; the rapper is soon released and Trump sends off a demented tweet about it.
August 2019
Kim renames Kimono "Skims."
The Jenner sisters' half sibling, Brody Jenner, splits with his wife Kaitlynn Carter, who briefly dates newly single Miley Cyrus.
September 2019
Kim and Kendall give an Emmy's speech where they say something not ironic about "real people just being themselves." It gets big laughs.
Kendall is spotted drinking out of a penis cup for Hailey Bieber's bachelorette.
October 2019
Kylie and Travis Scott split up. She's spotted headed to ex-boyfriend Tyga's studio a few days later.