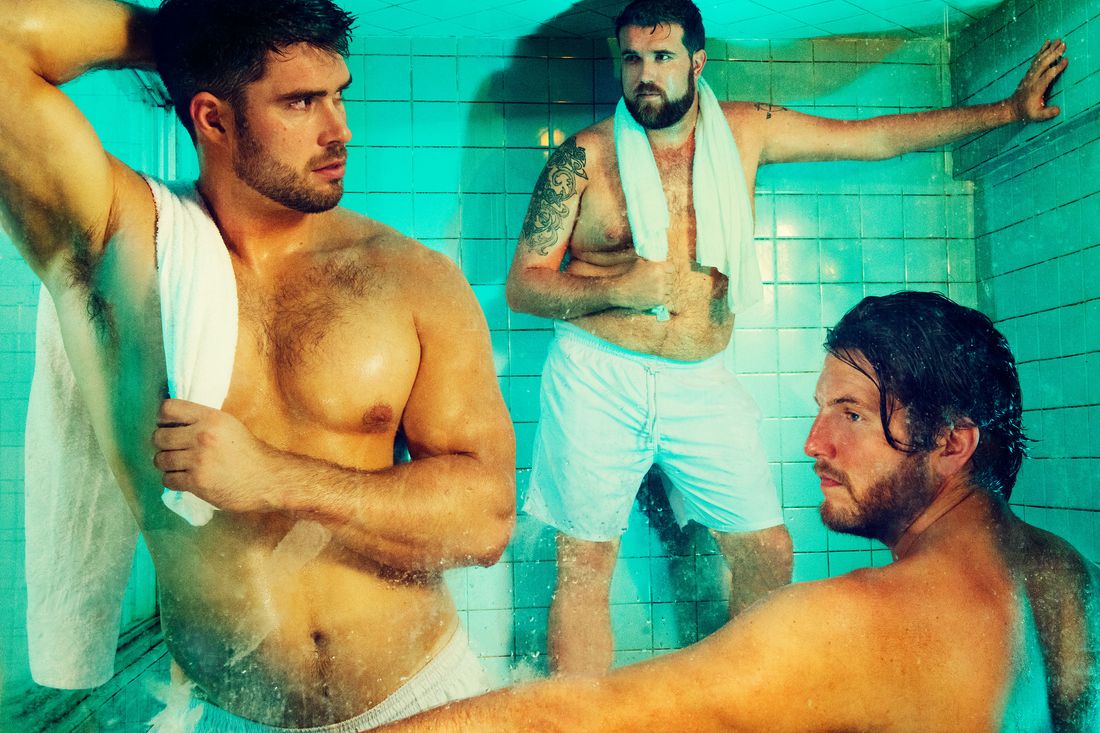 From left, Hunter Westfall, Zach Miko, and Matt Wirken.
Photo: Pari Dukovic
The most successful model of IMG Models' newest division brings in a comfortable six figures per year. He has been interviewed by Larry King, profiled by the New York Times, and flown to Australia to showcase swimwear. And when he arrives to work, spray-tanned and pedicured as the occasion demands, he is still sometimes mistaken for the electrician. "Someone goes, 'Oh, thank God you're here,'" Zach Miko says. "I didn't think I was late. I follow them and they bring me over to a burnt-out outlet and they are like, 'This is the one you have to replace.'"
The usual male model is around six-foot-one, maybe six-foot-two, and falls somewhere along the spectrum of rawboned to gym-buffed. The sample clothes made for photo shoots are cut for their proportions: usually a 38 suit, a 32-inch waist. So the confusion is, perhaps, understandable. Miko, 30, stands six-foot-six and weighs 290 pounds, more tank than twink. He wears up to a size six-XL.
Miko doesn't earn less than the lanky models. He earns more. "If I suddenly drop 50 pounds," Miko says, "I wouldn't have any clients anymore." Welcome to the new frontier of plus-size male modeling.
When he was signed to IMG in 2016, Miko was the first (and at that point, only) model in the company's new Brawn division, which aimed to elevate the careers of plus-size male models the way it already did for their plus-size female counterparts, like Ashley Graham and Candice Huffine. The onrushing tide of body positivity, with its push for inclusivity and representation in advertising and media, had already raised the profiles of curvy female models — Graham appeared on the cover of the Sports Illustrated Swimsuit Issue for the first time that year — and IMG Models president Ivan Bart made a bet that men could follow. (It was Bart who discovered Miko, on Instagram.) "At first, it caught me off guard," says Josh Stephens, whom Bart deputized to run the Brawn division. "Is there a market for that? I didn't know anything about it — even though I'm a big and tall guy."
The Brawn division was more or less a guess. Miko and IMG got rafts of good press but whether it would translate to actual work was an open question. But he began booking jobs, in a way he never did as an actor; he'd said "tens of lines on television," in his estimation, but was  generally told by casting directors his size would make his prime years 50 and over and he made the better part of his living odd-jobbing. The average American man's waist size, according to the CDC, is 40 inches, just like Miko's (never mind that, at five-foot-nine, the average American man is almost a foot shorter than him). He began shooting for Target, Uniqlo, Nordstrom, Columbia, and Bonobos. Eventually he became, Stephens said, "more and more unavailable for bartending."
Three years in, IMG now has seven models in the Brawn division, one of the largest among the international agencies who supply the major fashion houses. (Wilhelmina, a rival agency, also represents a number of bigger guys as part of its Titans division, which it launched in 2018, and recently partnered with Shaquille O'Neal on a model search competition.) But at IMG, business is booming. According to the company, the Brawn division saw a 15 percent revenue growth in 2018 over 2017, and its models bookings were up 62 percent from the year prior.
There is no one Brawn body — there are sportier Brawn guys and bulkier Brawn guys — and they operate as a friendly, go-bro fraternity, pumping each other up and celebrating every yard gained. They have stories of meeting one another at castings or shoots, and connecting via DM, less competitive than one-for-all, and all-for-Brawn. "Me being a sports guy," says Matt Wirken (29, six-foot six-and-a-half inches, 255 pouncs), who plays for the pro rugby team Rugby United New York and been shot for Tommy Hilfiger, Everlane, and Express, "I was like, what if we took a team approach to an individualized industry? We're the Brawn boys. We're a crew. We're here to show you guys what's up."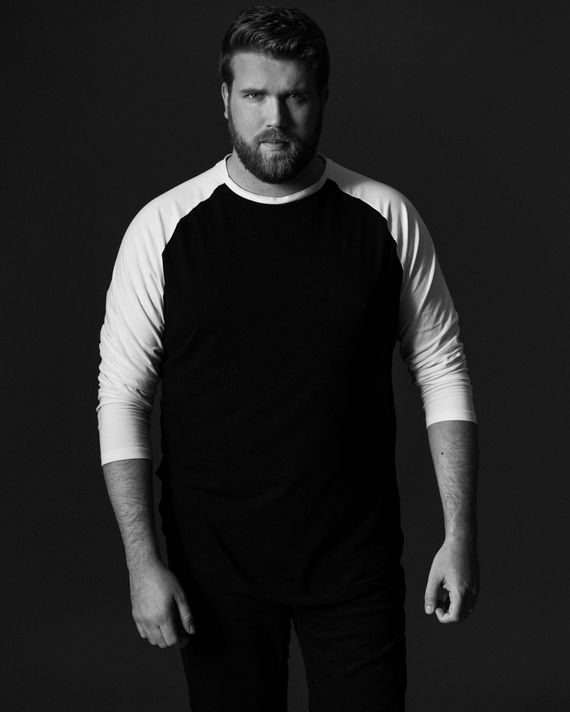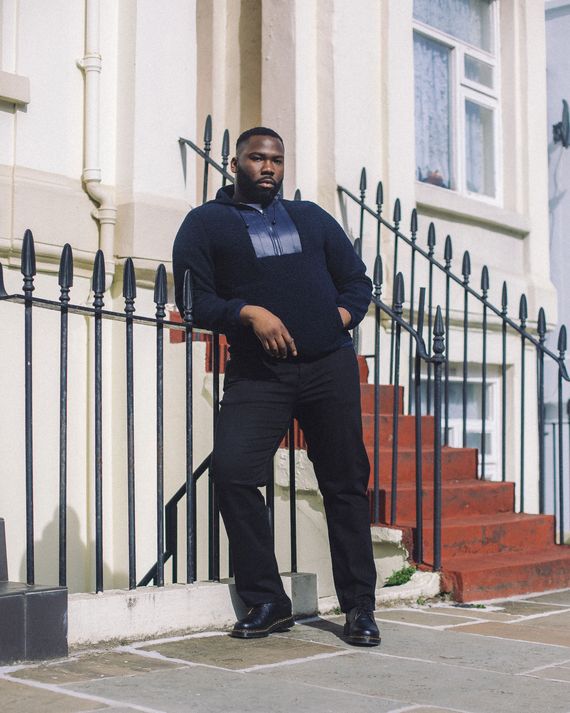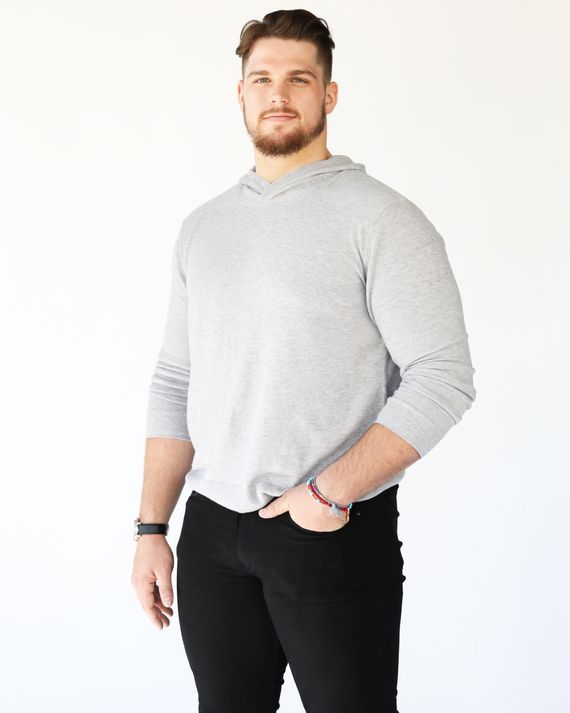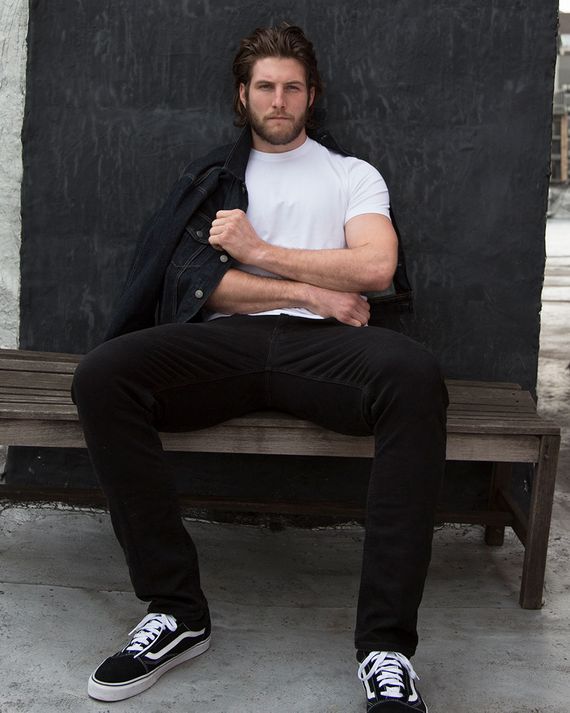 It has been an education, both for the companies that book them and the models they tower over. "The first couple times I did it, it was a little weird, and I would get side eyes from the straight-size guys," says Hunter Westfall (27, six-foot six-and-a-half inches, 270 pounds; Calvin Klein, Levi's). Makeup artists and hairstylists stare; the Brawn guys have all been tended to, in Gulliverian style, by people standing on stepladders or apple boxes. Many of the clients they worked for had never worked with plus-size men before. "The first year and a half that I was working, I was the first time they'd ever worked with a big guy, period," Miko says. "I've thought, man, if I mess this up, they're just not doing this ever again."
But the brands do come back. And size ranges are expanding, which not only benefits customers, but models too — much easier to shoot plus-size models when you don't have to slice shirts open in the back to get them on. Nordstrom, which booked Miko in 2017, has worked with him regularly since. ("We've been thinking about the plus-size customer for a long time," Ruth Basloe, Nordstrom's styling director, said in an email.) DXL Big + Tall — that's Destination XL, a big-and-tall retailer with more than 200 stores nationwide — hired first Miko, then Westfall and Wirken. "The whole big-and-tall arena as far as models go — it seems to have made a turn in the last three years," says Mark Albert, the vice-president of creative at the retailer. "We've used IMG for several years on a regular-size basis because they didn't offer any Brawn sizing. It was refreshing when they started playing in that field."
If it has the feel of a foregone conclusion, it didn't seem that way to the guys. Not one said they'd seriously considered modeling before. Miko spent a childhood and adolescence bouncing between Weight Watchers, fad diets, and diet pills. "Never a thought for even a second that it was a thing," he says. "I couldn't be a model the same way I couldn't pitch for the Yankees." When he was approached about a modeling opportunity at a party, says Nemar Parchment (26, six-foot-one, size XXL; ASOS, Levi's), "I just thought it was the alcohol talking. I didn't think he was going to follow through and book me."
Is this the dawn of the Brawn Age? Not yet. There are still only seven Brawn men — and the newest one of them, Jon Toth, is tied up playing for the New York Jets until December — while the rosters still overflow with willowy Jenses and Olis and Frederiks. "Even for how much we're working, there's still no luxury brands who have even thought about using us," Miko says. And yet here they are, splashing together at the Russian and Turkish Baths for our photographer, knowing their angles, switching up their poses, a supermodel dynasty in training. "I've worked with a few clients that Zach's worked with," Wirken says. "And people are like, 'This is where Zach Miko got his start. Maybe someday you'll be on that level.'"
*A version of this article appears in the September 30, 2019, issue of New York Magazine. Subscribe Now!