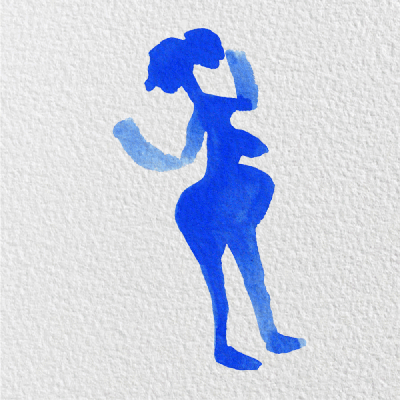 Illustration: Jeanne Verdoux
What does it actually feel like to be pregnant? Stretch marks, kicks — theoretically, at least, you're prepared for these things to happen, even if you can't quite imagine how. But there are plenty of things you aren't prepared for at all. For example: You are probably not prepared to smell like a sandwich.
This one came to us from Angela Garbes, author of Like a Mother: A Feminist Journey Through the Science and Culture of Pregnancy.
ANGELA: One of my best friends told me how, in her pregnancy, she developed this really specific BO that she called, like, an Italian sub. She was like, "It was like a combination of, like, raw onion and, like, vinegar."
And we heard from other anonymous listeners and friends about the things you don't expect when you're expecting:
"The most surprising thing that happened to me when I was pregnant was that I realized I had two extra nipples."
"Both times I was pregnant, my butt went flat."
"I grew extremely long eyebrow hairs. Like, they would dip down into my eyes. Like, one stray hair kind of clinging over the top of my glasses."
"I got a varicose vein on my clitoris."
"The shape of my cornea actually changed. I wear contacts and they just felt like they were scratching my eyeballs. And so I went to my optometrist and told him, and I mentioned that I was pregnant. And he immediately said, like, 'Oh. Yeah, your eyes have completely changed shape.'"
"After 12 years of working in front of a computer, my first pregnancy gave me carpal tunnel syndrome. What the fuck?"
Lots of them told us that pregnancy was a time of extreme horniness.
"So, I'm a woman in my 50s now, but I've raised two girls, and I remember quite distinctly during both pregnancies how surprised I was by how horny I was all the time … I never have wanted it that much in my life, ever."
"Just like walking around could get me close to orgasm."
"I grew up in a really Evangelical culture where I was often told that men think about sex every seven seconds and I always found that to be doubtable as I became an adult. but then when I was pregnant, I started to feel like maybe I understand that."
To hear more stories about the unexpected realities of pregnancy — from people like Rukmini Callimachi and many more — click above, and subscribe wherever you listen.