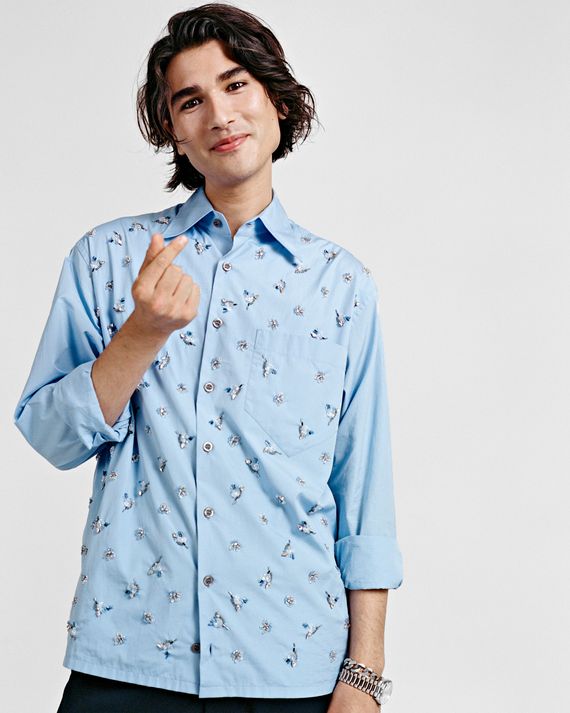 Blake Abbie was studying classical music in college and went to Paris to train with a "fairly well-known baritone." Because he also needed an internship in Paris in order to stay in the country, he wound up becoming a photographer's assistant. One day, he took a copy of Industry magazine home, liked them on Facebook, and applied to be an editorial assistant. That gig led to a new career route — one in fashion media. Currently, he's the editor-at-large of A Magazine Curated By, where a different creative takes control of the magazine each time it's published. Simone Rocha, Eckhaus Latta, and Kim Jones have all recently served as curators. As if that doesn't keep him busy enough, Abbie is also an actor, and appeared on the Netflix Original Meteor Garden. We spoke with him about New York, Bach, and his mom.
What is your most used emoji? 
I use the crying face a lot.
If you could spend three months anywhere, where would it be? 
I would love to be in New York. I love when I'm in the city.
If you had a superpower, what would it be? 
Flight.
What is the best album ever made?
Bach: The Goldberg Variations by Glenn Gould. For me, it's something I listen to when I'm really stressed out. And I like how you can hear him humming along to his playing. You don't normally think of classical music in that way.
What's your go-to karaoke song? 
Everyone asks me to sing French versions of Céline Dion.
Who is someone you think is cool?
Is it cheesy to say your mom? I think my mom's pretty badass.
Who is a fictional character you'd want to hang out with? 
Storm from the X-Men. We can fly around.
If you were a magazine, which would you be? 
I've always loved 032c.
Jeans or sweats?
Sweats.
What's something your social-media followers don't know about you? 
Where I am.
If you could be outfitted by one designer for the rest of your life, who would it be?
I don't really prescribe to one particular designer or brand. But let's say Miu Miu men's.
What do you eat for breakfast?
I never eat breakfast. But I have oolong tea.
If you could only eat three things for the rest of your life, what would they be?
Cashews, watermelon, and papayas. I really love fruit.
If you were a color what color would you be?
Blue-gray.
Blake wears a Prada shirt and a Rolex watch.