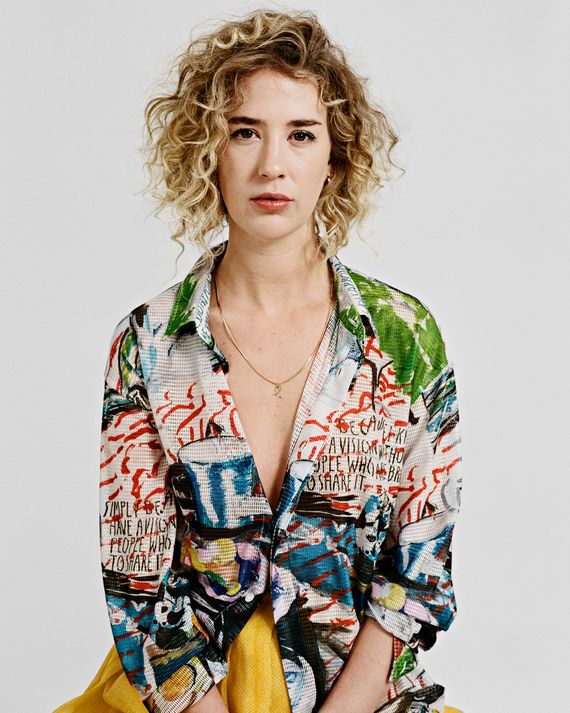 Emily Dawn Long likes to say that everyone wears a lot of hats. But she probably wears more hats than most. Dawn Long has worked in editorial at publications and as a stylist for brands like Sandy Liang and celebs like Elon Musk. She also has a collection of tie-dyed clothes called Long Dawn Emily. The most recent drop includes traditional tie-dyed prints as well as groovy daisy doodles. All the dyes are from vegetables; she uses carrots, red cabbage, and onion skins to get the right earthy color. The Cut spoke with Dawn Long before she hopped on a plane to Italy. Read on for her thoughts on Sabrina the Teenage Witch, LCD Soundsystem, and Isabella Rossellini.
What is your most-used emoji? 
I want to say the shrug guy. People always say I start and end my sentences with a question mark.
If you could spend three months anywhere, where would it be? 
I'm about to spend three weeks in Italy, but maybe Morocco. I was in Tangier for a week, and I felt like I could have been there forever.
If you had a superpower, what would it be? 
I always said I wanted to do what Sabrina the Teenage Witch did in her opening credits, where she snaps her fingers and it changes her outfit.
What is the best album ever made?
I really like the latest from LCD Soundsystem.
What's your go-to karaoke song? 
I usually avoid it at all costs, but I just did "Me Against the Music" by Britney Spears.
Who is someone you think is cool?
Recently, I'll go with Isabella Rossellini. I just found out she did this thing called Green Porno; it's an educational video of insects having sex. It's probably one of the best things I've ever seen.
If you were a magazine, which would you be? 
i-D from the '90s.
Jeans or sweats?
Jeans.
What's something your social-media followers don't know about you? 
I'm pretty open, but maybe that I'm from the South.
What was the last website you looked at?
Swiss.com because I was checking in to my flight.
If you could be outfitted by one designer for the rest of your life, who would it be?
Either Phoebe Philo or myself.
What do you eat for breakfast?
Chilaquiles burrito from my favorite place in L.A. If I'm not in L.A., a smoothie or an egg or anything involving bread.
If you were a color, what color would you be?
A dusty, burnt but saturated mango.
Emily wears a Dior Men's shirt, Fendi skirt, and Crocs slides.