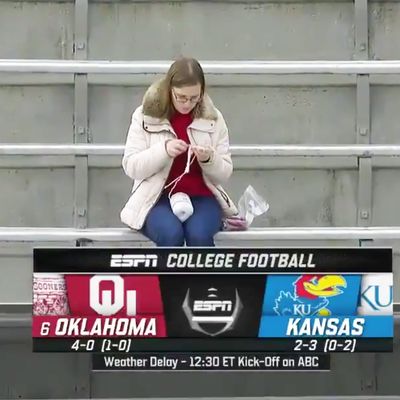 Hello, and welcome back to sports. It's me, your extremely qualified expert commentator, here to tell you that this crocheting woman, who "watched" a college football game between the Oklahoma University Somethings and the Kansas University Team Name, is officially the MVP of all time.
ESPN caught this dedicated fan and her A game over the weekend while a football game somewhere, at some time, was delayed due to inclement weather.
"We'll see how far along this lady is with her knitting in about 25 minutes," the announcer said while the camera panned to the lone woman hard at work in a section of the stands. She was clearly committed to excellence, speed, agility, and total domination in the field of crocheting (not knitting, guy).
If you find it shocking that ESPN employs announcers purported to be knowledgeable in the realm of sport who can't tell the difference between loop stitching being done with two knitting needles and knot stitches being made by crochet hook, let me tell you, you're not the only one.
Regardless, the player was able to keep her composure and focus on her yarn and whatever hat/scarf/blanket/oven mitt/dog sweater she was creating to score touchdowns in both coziness and efficient use of boring downtime. It was truly thrilling to watch someone achieve near-peak human performance in real time, and with such humility and grace. Please give her the [?] Football Trophy, Football Sports Council of America.