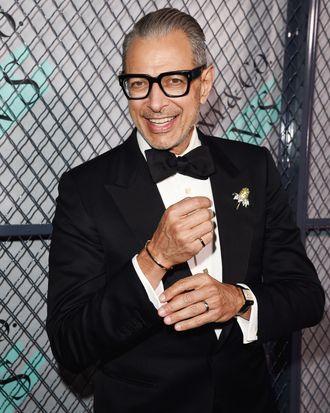 Photo: JasonMerritt/Radarpics/Shutterstock
Imagine Breakfast at Tiffany's but with Justin Theroux as Holly Golightly. Or maybe Jeff Goldblum. It's the year 2019, darling, so why not?
On Friday night, Tiffany & Co. celebrated the launch of its first-ever men's collection with a very manly party at the Hollywood Athletic Club in Los Angeles, complete with Tiffany-branded pool tables, basketball hoops, and silver championship trophies. The setting reflected the collection's hypermasculine look book, in which pieces like dog tags and cuff links, for example, are arranged atop footballs and wrenches. A release describes the collection, designed by Tiffany & Co. chief artistic officer Reed Krakoff, as being "direct and uncomplicated." No flash, no fuss. Finally, fancy men can wear diamonds without feeling self-conscious.
Actor and leading fancy man Goldblum was the entertainment for the night, crooning with the Mildred Snitzer Orchestra while wearing a $110,000 diamond pineapple brooch on his Tom Ford lapel. Theroux was also in attendance, wearing a casual $14,000 gold chain around his neck, plus a watch and a matching bracelet that were almost $7,000 a pop. Meanwhile, Cody Simpson wore a $12,000 Tiffany T bracelet (here's hoping he brought his new girlfriend, Miley Cyrus, a goody bag.) And A$AP Ferg wore diamond earrings and carried a blue Tiffany purse.
As always, it's a great time to be a fancy man. But even if you're just a regular Joe looking for some nice new jewelry, the Tiffany & Co. men's collection hits stores October 1.