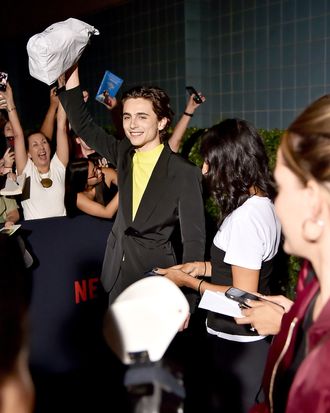 Photo: Theo Wargo/Getty Images
Timothée Chalamet, our sweet, bib-wearing bowl-cut baby, brought snacks to last night's premiere of The King in New York City. He arrived on the red carpet brandishing a bag of everything bagels like an Olympic torch, which he brought to the viewing in response to a fan's request on Twitter.
Chalamet is a regular at Tompkins Square Bagels in the East Village, and has been spotted there on several occasions, most recently with his paramour, Lily-Rose Depp. Depp plays Chalamet's movie wife, Catherine of Valoisin, in The King; Limothée were both present at last night's premiere, the latter in massive Chanel diamonds.
The bagel offering was charming, but it's worth noting the 23-year-old has been a red-carpet fixture for some time now; a sartorial boundary-pusher, he stepped up his already excellent suit game this past year with the aforementioned bib at the Golden Globes, and again with a cinched lavender suit in Venice.
This is likely Chalamet's final red carpet for The King, Netflix's big period-piece play for awards this season. The actor, sporting a divisive bowl cut, plays the young King Henry V, a departure (somewhat) from his usual role as a confused, modern-day teen. The film also stars Robert Pattinson, also with questionable hair, and Joel Edgerton, who co-wrote the script. So far, critical reception has been mixed. The King premieres in theaters on October 11 and hits Netflix November 1.