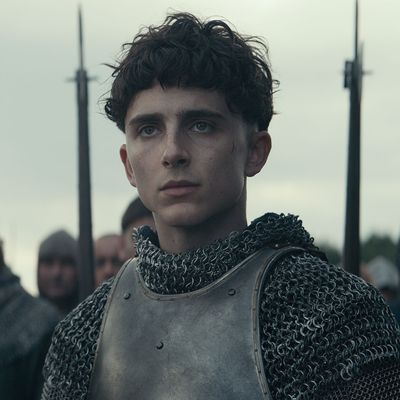 Behold: the "anxiety-inducing" bowl cut.
Photo: Netflix
Over the summer, we mourned the untimely loss of arguably the best head of heartthrob hair: the long, dark, wavy curls of Timothée "Lil Tim Timmy" Chalamet, gorgeous boy king.
It may seem like people are getting extreme bowl cuts of their own volition and to spite us all, but rest assured that Ti-mo-tay's hair simply fell victim to film, which is notorious for murdering famous hair. During a red-carpet interview with Variety at last night's bagel-scented premiere of The King, (the assailant), Chalamet publicly admitted he too feared cutting a bowl cut.
"At first it was anxiety-inducing, but then it was like nah this has to be done," he says into the microphone, his touchable waves side-parted and back where they belong (alive and well and on top of his head). "Or else you can kind of see those period movies, without shading anybody, but where they didn't fully, you know, you didn't know what they were going for, and hopefully this is not that."
"This" definitely "is not that" because we already know "what they were going for:" vintage hairspiration for Instagram. While discussing Ti-mo-tay's acting chops, reporter Marc Malkin unintentionally makes another case for bowl cuts, noting that the more contained style let the cheekbone-d king eye-act his heart out. "You can see it all in your eyes in the film. Everything is in your eyes," he praises.
Not sure how co-star Robert Pattinson's eye-acting fares though considering he has an extremely flowy lob in the film.