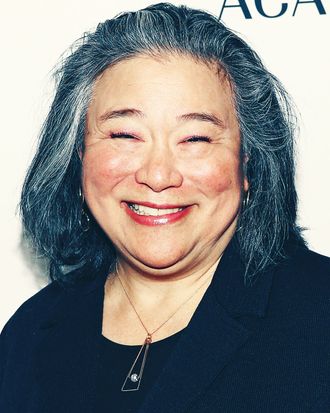 Tina Tchen.
Photo: Jesse Grant/Getty Images for NARAS
Time's Up, the Hollywood-born initiative dedicated to fighting sexual harassment and inequality in the workplace, will soon be under new leadership.
On Monday, the advocacy organization announced that it had appointed Tina Tchen, former chief of staff to Michelle Obama and a co-founder of the initiative's legal defense fund, to be its new president and CEO. In an interview with the New York Times, Tchen called the position "the role of a lifetime."
"I have been a single working mother throughout my career, and I have never witnessed such an inspiring and honest conversation about the challenges facing women and all workers, including sexual harassment, power, and equity," Tina Tchen said in a statement. "I am more optimistic than ever that we can create workplaces where everyone has an equal opportunity to reach their full potential and, in this new role, I'm determined to make it happen."
This announcement comes nearly eight months after the departure of former president and CEO Lisa Borders, who abruptly resigned in late February after her 36-year-old son was accused of inappropriate touching. (Following Borders's resignation, Rebecca Goldman, the chief operating officer, stepped in as interim CEO.)
In a Time's Up press release announcing Tchen's appointment, principal founder Shonda Rhimes expressed her excitement over the new leadership, saying, "Tina's talent and unique skill set perfectly suit her for this role and time, and will help ensure our continued progress towards meaningful change." Meryl Streep, another principal founder, echoed Rhimes's sentiments: "We are so lucky she has picked up the banner."
Though Tchen's official start date isn't until November 1, she has already announced the launch of new Time's Up project: an "Impact Lab," funded by Melinda Gates, dedicated to researching methods to combat sexual harassment and discrimination in the workplace.
"Companies [are] coming forward with a willingness that has never happened before to actually think about these issues," Tchen told CBS This Morning on Monday. "And so I've seen an openness by companies, but here's the thing — they actually don't know what to do. And that's why one of the things we're excited about in conjunction with my announcement is to announce Melinda Gates has given us a generous donation to start an impact lab to do research. We need to build research and data. We don't know what works."