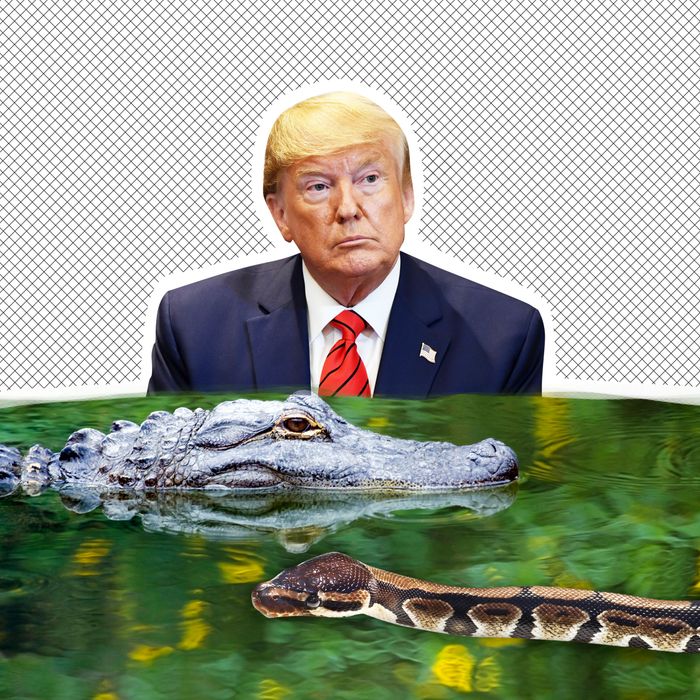 Donald Trump has responded to yesterday's story in the New York Times that he allegedly "often talked" of deterring migrants from the U.S.-Mexico border by building a "water-filled trench" stocked with predatory wildlife, and by shooting them in the legs. "Now the press is trying to sell the fact that I wanted a Moot stuffed with alligators and snakes, with an electrified fence and sharp spikes on top, at our Southern Border," wrote the president of the United States earlier today on Twitter. "I may be tough on Border Security, but not that tough. The press has gone Crazy. Fake News!" ("Moot" was corrected to "Moat" a few minutes later.)
The tweet, "Moot" included, is the latest risible episode from the foreign-policy mind that brought you "Maybe we can buy Greenland." But the stupidity of the idea of alligators snapping at the border belies just how deeply disturbing it is to read about Trump's (alleged) impulses after the fact, from the people tasked with carrying them out.
Though Trump denies he suggested erecting the treacherous moat and an electrified wall with "spikes on top that could pierce human flesh" — notice he hasn't yet denied suggesting that border patrol could shoot migrants in the legs — we don't need these Dr. Evil-like delusions to be confirmed in order to know that the cruelty behind them is real. The hallmark of Trump's presidential campaign, and now his administration, has long been violent contempt for migrants, whether by referring to them as "animals," stoking fear about their criminality, separating children from their parents, or stepping up ICE raids on communities of people who have already lived and worked in the United States for many years. It's not hard to imagine a White House that has stood behind the notion that toddlers should appear unaccompanied in immigration court exploring the use of militarized water monsters.
And Trump has been enabled at every step by staff members like the leakers who spoke to the Times, in what seems to be an attempt to distance themselves from his administration. Take former U.S. Department of Homeland Security Secretary Kirstjen Nielsen, for example, who appears most frequently throughout the Times piece trying to "reason" with her boss, enduring condescending nicknames like "honey" and "sweetheart," and telling Trump, who wanted a cement wall, "I literally don't think that's even possible." But at the same time she was supposedly resisting Trump's whims, Nielsen was also working around the clock to accomplish what she could in enacting his zero-tolerance policy, which included tearing children from their parents and detaining people in unsafe conditions. That she reportedly tried to turn his ridiculous demands into workable solutions behind the scenes does nothing to absolve her; if anything, she should be reminded again and again that she reported every day to a man who is capable of them.
Hopefully, someone will bring up Nielsen's part in discussing the murder of border migrants at Fortune magazine's "Most Powerful Women" summit, where Nielsen, slithering her way back into public favor, is speaking later this month. It appears the real moot stuffed with alligators and snakes has been with us all along.