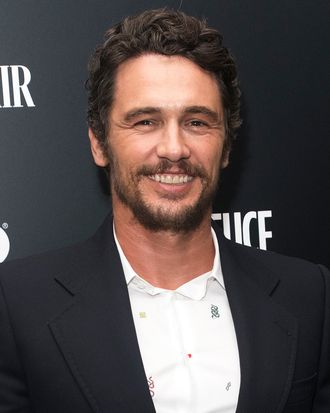 James Franco.
Photo: Debra L Rothenberg/Getty Images
In January of last year, five women accused James Franco of sexual misconduct, with claims ranging from coerced oral sex to exploitative work environments. Four of the women in that Los Angeles Times feature were students at Franco's acting school, and one of those former students, Sarah Tither-Kaplan, is now part of a lawsuit against Franco. As the New York Times reports, a suit filed today in Los Angeles County Superior Court claims that Tither-Kaplan and a woman named Toni Gaal allege Franco and his associates mistreated them sexually, while using the school as a venue to exploit women and engage in "widespread inappropriate and sexually charged behavior towards female students by sexualizing their power as a teacher and an employer by dangling the opportunity for roles in their projects." Gaal was not part of the group of five who spoke with the LAT in 2018.
Franco, his business partner Vince Jolivette, the Rabbit Bandini production company, and its general manager, Jay Davis, are all named as defendants in the lawsuit. Both women say they were students at Franco's Studio 4 acting school in 2014 in Los Angeles, and they say the actions of Franco and his cohort "led to an environment of harassment and sexual exploitation both in and out of the class." They say employment opportunities were promised but not followed through on, and that they were pressured to perform sexually explicit scenes or take off their clothes "while they were denied the protections of nudity riders and other film-industry guidelines that govern how actors can be portrayed and treated in nude scenes," as the Times reports. The school is no longer in operation.
Gaal and Tither-Kaplan paid a $300 monthly tuition for the classes, but that there was also a $750 master class available specifically for sex scenes. Those required audition tapes be submitted to Franco for review, and he selected students based on said tapes, which prospective students had to forfeit their rights to upon submission. Tither-Kaplan was accepted into that class, and eventually appeared in some of Franco's independent features. During an orgy scene in one of them, Tither-Kaplan says Franco "removed plastic guards that covered other actresses' vaginas while he simulated oral sex on them, according to the lawsuit."
Franco has previously denied the accusations, most notably in a late-night interview with Stephen Colbert. Actress Ally Sheedy also implied via Twitter that she had a negative experience with Franco, but did not elaborate on, and in 2014 the actor admitted to trying to pick up a 17-year-old via Instagram. This lawsuit, however, is the first legal action taken against Franco for sexual misconduct. The plaintiffs are pursuing monetary damages and either the return or destruction of any video recordings handed over to Studio 4. Gaal and Tither-Kaplan are also seeking class-action status so other women who may have similar histories with the defendants can join in the suit.