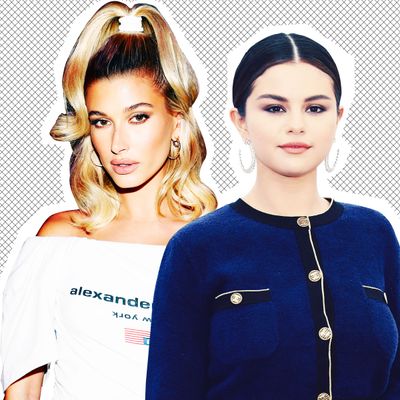 Hailey Bieber and Selena Gomez love themselves … but do they also hate each other?
Given that they are young, in the public eye, and have romantically entangled themselves with the same highly silly man, fans certainly want to believe that a grudge match is brewing. The latest drama comes in the form of a song and an Instagram post. On Wednesday, Selena Gomez released a new breakup anthem and accompanying video, in which she appears to be practicing the best selfie angles by which to preach self-acceptance. Some lyrics from "Lose You to Love Me" seem to reference the singer's ex and Hailey's husband, Justin Bieber, in that they describe an on-again, off-again relationship. She also, perhaps, alludes to his relationship with Hailey with this lyric: "In two months you replaced us / Like it was easy / Made me think I deserved it / In the thick of healing." (After their latest breakup in March 2018, Justin moved on quickly with Hailey, proposing to her in July of that year.) Gomez has been reticent about commenting on her ex's nuptials, but this song strongly implies that, yes, she has noticed.
Hailey, in kind, has not said anything about Gomez, but she did post Summer Walker's new song, titled "I'll Kill You," to her Instagram Story only moments after Gomez's single debuted. Walker's song alternates hostile lyrics directed at women who might come between her and her man with declarations of her love for him; many onlookers interpreted the post as very aggressive shade, and reacted so forcefully that Hailey had to turn off the comments on her Instagram. Is Hailey threatened by Selena's music video about getting over her ex and spending copious time in front of her mirror looking cute?
On Wednesday afternoon, Hailey responded to the brewing discord, then backpedaled, responding to a Just Jared Instagram post about her supposed Selena feud with, "Please stop with this nonsense … there is no 'response.' This is complete BS." She later deleted the comment.
Later in the day, Selena also responded, telling fans on Instagram Live, "I am so grateful for the response of the song. However, I will never stand for women tearing other women down, so please be kind to everyone." She later elaborated, "Please be kind, I don't like seeing people being disrespectful or rude to other people, so please don't do that."
There is only one way to settle this: Hailey must also become a singer-songwriter with a powerful Christian pop ballad about self-love and dismissing the haters.
This post has been updated.