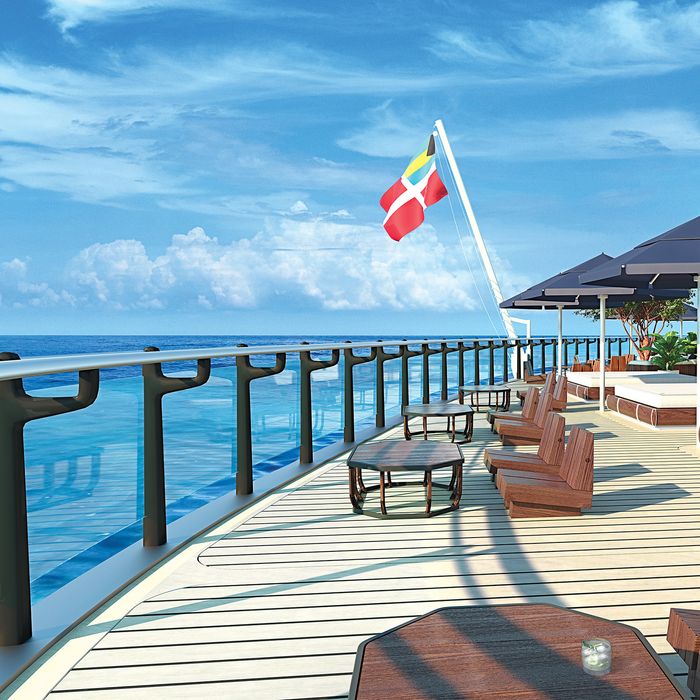 Vacations are the ultimate game of choose your own adventure. Yet picking one trip (say a relaxing, rejuvenating respite from day-to-day life) can leave you feeling like you're ruling out another (fun, adventure, endless days of exploration). Virgin Voyages — the new cruise line from the Virgin empire for the 18-plus crowd — refuses to play that game. It will offer guests the best of both worlds by giving wellness plenty of space to stretch out aboard its ships in an initiative dubbed "Vitamin Sea." The goal is for guests to have ample opportunity for relaxation and introspection, and the result is a self-care paradise that rivals the most luxurious wellness destinations on land. Here are just a few of the experiences geared toward balance aboard Virgin's first ship, the Scarlet Lady, which will begin sailing from Miami to the Caribbean in 2020.
Being at sea doesn't mean you have to miss a day at the gym. The B-Complex fitness space is divided into four rooms (Build, Burn, Bike, and Balance), and together they offer just about everything your favorite landlocked gym does, along with one thing it doesn't: nonstop ocean views. Choose from daily strength-training, cardio, spin, and yoga classes, which are all complimentary, or do your own thing using its sustainably manufactured fitness equipment.
Inspired by New York City sports clubs of the 1920s, this outdoor space is as much about socializing as it is about sweating. Come to its top-level location to pick up a game of basketball, punch it out in the boxing ring, and relive your glory days on the gymnastics equipment (or, you know, pretend they existed). Whatever you do, you'll want to reward yourself with a perfectly shaken cocktail on the sundeck afterward. The space is bedecked with oversized games, 10 cabanas, the largest daybed in the world, and a giant catamaran-like net where you can lie down and look up at the sky.
On the same level as the Athletic Club are these two outdoor spaces, which take full advantage of the fresh sea air. You can do literal sun salutations during sunrise yoga classes on the Perch's serene deck as well as clear your mind during guided meditations, both at no additional cost. If you prefer your moments of Zen to be more mobile, head over to the Runway. It's a Virgin-red running track that circles the perimeter of the ship, offering ocean views as you do laps around it.
Recover from the stress that is life on land at the appropriately named Redemption Spa. With a hydrotherapy pool, mud and salt rooms, cold-plunge pools, quartz beds, and sea-inspired spa treatments, it's pure self-care at sea. And with a design inspired by an underwater cave, you won't want to leave. Good thing you won't have to: The space turns into a full-on spa party with a DJ when the sun goes down.
Imagine your favorite childhood pool — the one with the good snacks and playground nearby — grew up, went to art school, and moved to Venice Beach, California, and you can begin to imagine what Gym & Tonic is like. Dive into one of two plunge pools, kick back in its whirlpool, or check out MyBeast, an artsy, grown-up playground that takes design cues from the SoCal town it's inspired by.
All images courtesy of Virgin Voyages.
This is paid content produced for an advertiser by New York Stories. The editorial staff of The Cut did not play a role in its creation.