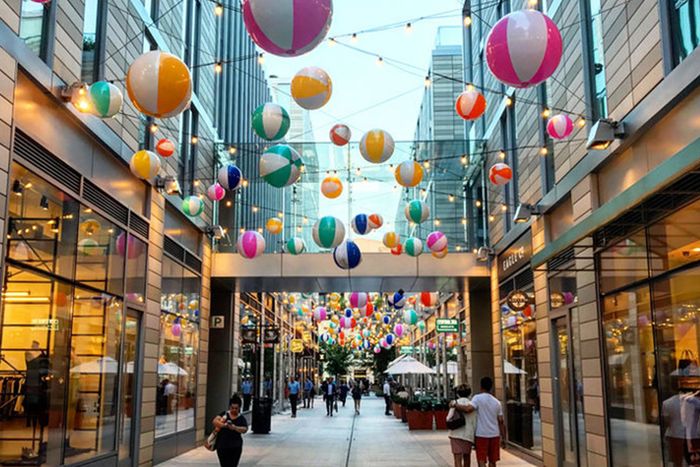 Photo: CityCenterDC courtesy of washington.org
When I first moved to D.C. from New York City six years ago, I was skeptical. I thought D.C. would be all politics and power, full of elected officials, lobbyists, and lawyers. As a designer and creative, I worried that the city would stifle my sense of style and creativity. I'm happy to share that since my move those many years ago, I've learned that there's so much more to the capital than that. As a city with a 700,000-plus population, which has grown significantly in recent years, it's actually a vibrant destination full of creativity, good food, and culture.
Maybe I was playing off that creative and entrepreneurial energy that exists in D.C., but two years ago, I decided to quit my full-time job to build my self-care community and brand, Girls' Night In, around the idea that it's important to take a moment to pause and take care of yourself. That message so far has been very well received in a "work hard, play hard" city like D.C. where self-care is very much needed! (We now reach over 160,000 newsletter readers each week.) I'm proud to say that I've not only started a new chapter here and have decided to keep D.C. as our team's headquarters, but I'm continuously energized by the creative community that surrounds me in this city each day.
Whether you're new to D.C. or a long-time local, here are 14 fun spots you shouldn't miss for a day and night (and late night) out in the District with your friends.
Breakfast, Coffee, and Brunch With the Girls
The Wydown
A cozy, local, family-run café for a warm cup of coffee and artfully poured lattés. Don't miss out on its baked goods, imagined by their in-house, classically trained head pastry chef, Sophie McCracken. My favorite is the perfectly crumbly blackberry lavender scone.
Colada Shop
This is the perfect spot for an energizing afternoon perch! Sip on Cuban coffee, order an empanada as a snack, and people-watch on the vibrant patio (which is also dog-friendly). When it starts getting dark, you can switch indoors and head up the stairs to the rooftop for a refreshing rum cocktail before exploring more of what 14th Street has to offer.
Le Diplomate
The ultimate brunch spot, especially great for a big group of friends. Come for the beautifully chic French design (big brass windows, beautiful tile floors, a sunlit greenhouse-style dining area), and stay for the food. You can never go wrong with the fromages or popular egg-based dishes, like poached eggs basquaise.
Fun Group Activities, Treats, and Shopping
Ice Cream Jubilee
A beloved local ice cream shop, conveniently located right on the corner of 14th and T Streets NW (along with a few other new locations). The flavors change seasonally, but my personal favorite is the Cookies & Cookie Dough. As a plus — it's a woman-owned business!
The Lemon Collective
This spot is great for an afternoon group activity. Sign up for a workshop prior to visiting, and get introduced to crafts like how to dye fabrics with indigo or how to make your own flower crown. It's owned by a group of local women entrepreneurs, and the classes switch up each month.
Salt & Sundry
This colorful store is one of my favorite places for buying home goods and gifts. It's worth a browse, even if you don't have anything in mind. The products are expertly curated by the well-traveled owner, Amanda McClements, who's always on the hunt for the next wares to stock. Plus, its interiors are ever-changing as the staff switches up the inventory according to the season or what's inspiring them at both the 14th Street and Union Market locations.
Union Market
Union Market is the perfect area for an afternoon of browsing, shopping, and eating delicious food during the day. It has an energetic, creative vibe, and it's always bustling. I like grabbing Korean-fusion tacos from TaKorean (get the steak/bulgogi), then treating myself to some scoops of ice cream from Trickling Springs or gelato from Dolcezza. Afterward, you can walk off your meal by strolling into the Salt & Sundry located within Union Market, then wind your way outside the complex to Shelter, a local, woman-owned jewelry shop.
Great Spots for a Delicious Group Meal
Espita Mezcaleria
Espita is a newer, woman-owned restaurant in the heart of Shaw. It's perfect for evening dates (sit at the bar) but also great for dinner with a group, too. Obviously, don't miss out on their namesake mezcal-based cocktails; I've also had its friendly bartenders whip up a pisco-based drink. Espita also offers a fixed-price dinner menu: $35 for three courses. My personal favorite dish is the barbacoa de borrego tacos.
Tiger Fork
Blagden Alley is not only a fun spot to take some snaps in front of one of its colorful street murals (I love the rainbow mural), but also Tiger Fork is one of my favorite places to catch up with girlfriends when I'm craving a satisfying meal and a one-of-a-kind environment. First, the decor and atmosphere are thoughtful and beautiful: There's a custom-beaded curtain that hangs from the ceiling, tasseled pendant lights that glow from above, and beautiful Chinese dragons floating on the walls. Get the dan dan noodles, and don't miss out on the playful dessert "Bubble Waffle," topped with matcha snacks, ice cream, and (according to its menu) other "fun stuff!"
Calico
Calico is one of my favorite night spots on Blagden Alley. I especially love it in the summer and early fall, because of its incredible patio space out back where you can just hang out around picnic tables. Order the Tomato Pie (Philly-style), which is the only one in the city that I've spotted so far! It's essentially a deep-dish pizza minus any toppings. And don't pass up the photo-friendly "adult juice boxes" ('90s throwback, anyone?).
600T
This tiny, hidden gem of a speakeasy/cocktail bar is so good that I'm almost hesitant to write about it for fear of it getting over-crowded. I stumbled across this bar one night with friends when it had just opened. At first glance, 600T looks like…an actual basement. There's no clear signage outside. But once you're inside, you step into a cozy environment with wooden furniture and details that the owner has built himself. The last time I visited, the owner tended our table, giving 600T a friendly, neighborhood vibe. The small number of tables, dim lighting, and tucked-away vibe also make this spot low-key and intimate enough for a first date. Needless to say, the cocktails are alluring.
Late-Night Fun and Food
U Street Music Hall
If you want to dance…you should go to U Street Music Hall (or "U Hall"). Usually, you'll see great acts, and it's the perfect spot to go with girlfriends to dance the night away. The mix is eclectic: Within the span of a week, you can experience house, disco, techno, bass, and electro.
9:30 Club
This is my favorite nightclub/concert venue in all of D.C. It's the perfect size for a well respected act — not too big, not too small, just right. I know a few newer concert spaces have opened in D.C., but I love that 9:30 Club has maintained its slightly gritty, authentic feel. You should prep for a show by grabbing a bite or a beer at Satellite Room next door.
Ben's Chili Bowl
If you're out on U Street, you can't end your night without making a quick pit stop to Ben's Chili Bowl! This is a historic landmark in the city that's been around since 1958. Grab a chili dog and/or half-smoke (a signature local dish — basically, a sausage that's smoked before it's grilled and served atop a bun with onions, cheese, and chili) and a milkshake. It's a busy spot, but a classic D.C. destination to cap off your evening.
For more D.C. travel tips, visit washington.org. All images courtesy of the retailers.
This is paid content produced for an advertiser by New York Stories. The editorial staff of The Cut did not play a role in its creation.