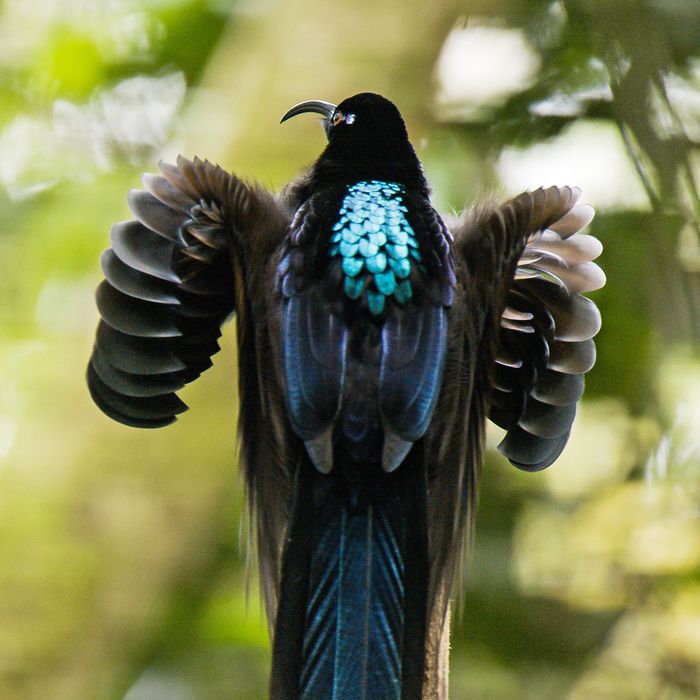 Majestic queen!
Photo: Netflix
My brain has a worryingly limited amount of free space, which means I'm particular with the types of information I introduce to it. Any and all niche drama involving prominent British football wives, better known as WAGs? Yes please. Every single development in the Trump impeachment inquiry? Sorry, but I just … can't. This morning, though, I've made the executive decision to create as much room as necessary for the specifics of bird mating.
I came to this realization after discovering that Netflix has released a documentary, alluringly titled Dancing With the Birds — from the creators of Our Planet — that's all about avifauna of the jungle flirting and dancing and, of course, doing it. The trailer for the film, which conveniently came out this week, is utterly delightful: As the birds twirl their vibrantly colored feathers and puff up their regal chests to woo potential mates, comedian Stephen Fry narrates their captivating mating rituals in his soothing British accent.
Per the Daily Beast, during the 51-minute-long film, Fry delivers lines like "female twelve-wires like to be flicked across the face by a male's tail" and "he just needs to charm her onto his pole." Okay birds!
And the documentary has even won over veritable birders, whose judgment I trust above all others. "It is a visually stunning film and features an engaging script about the birds it profiles," reads a review in Birdwatching, a source for "becoming a better birder." The writer continues: "The point of the film is to celebrate the planet's most stunning avian breeding displays."