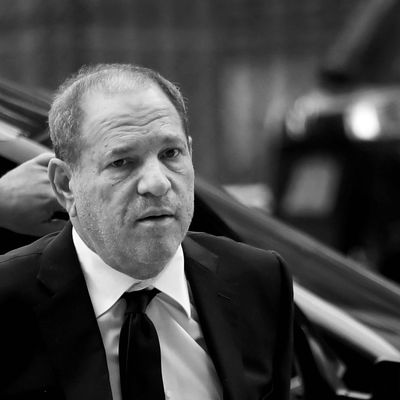 Photo: Spencer Platt/Getty Images
In an op-ed for the New York Times, Harvey Weinstein's former assistant, Rowena Chiu, shared details of the sexual assault she endured at the hands of her former employer, as well as the harrowing experience of being pressured by Weinstein's lawyers to sign an NDA.
Chiu, who was hired by Weinstein in 1998 after graduating from the University of Oxford, described how her ethnic background, which is Chinese, first marked her as "different and inferior" to Weinstein. She alleges that Weinstein told her colleague and fellow assistant, Zelda Perkins, that he wouldn't harass Chiu because he didn't "do Chinese or Jewish girls." Chiu then wrote that later, "he turned around and defined me in terms of sexual exoticism, telling me, just before he tried to rape me, that he'd never had a Chinese girl."
Chiu also described how, during the night of the attempted rape, which happened at a late-night meeting during the Venice Film Festival, she tried to protect herself from Weinstein by wearing two pairs of tights:
I had expected to discuss potential film productions and scripts, and we did. But after hours of fending off his chitchat, flattery, requests for massages and a bath, ultimately I found myself pushed back against the bed. I'd worn two pairs of tights for protection, and tried to appease him by taking one of them off and letting him massage me, but it hadn't worked. He'd taken off the other pair and I was terrified my underwear would be next. Harvey moved in: Please, he told me, just one thrust, and it will all be over.
Chiu managed to get out of the situation, and told Perkins about it the next day. The two women tried reporting Weinstein to higher-ups, but were "shut down" and laughed at. "The message was always the same: Who would ever believe us over the most powerful man in Hollywood?" she wrote. When Chiu and Perkins were finally able to obtain legal representation, they were faced with weeks of intense pressure from Weinstein's team to sign a non-disclosure agreement:
The negotiations were conducted under conditions of extreme duress: We were once kept at the office overnight, from 5 p.m. to 5 a.m., escorted to the bathroom, provided with the barest minimum of food and drink and not permitted pen and paper to keep notes. We were not even allowed to keep a copy of this most egregious of agreements: We had signed our lives away in a complex 30-page document that we could not refer to.
Chiu accepted a settlement of around $213,000, and she and Perkins were told to never speak about it again. After not being able to find work elsewhere in London, she ended up employed by Miramax again, but in Hong Kong, which she suspected was a way for Weinstein to still keep tabs on her. The trauma from the assault and its aftermath led Chiu to attempt suicide twice before she finally quit. "I lived in constant fear of Harvey's abuse, control, and power; that the story would come back to haunt me; that I would inadvertently slip up on my promise to never speak of this," she wrote.
Over the years, Chiu had remained quiet about her assault, and continued to do so, even as the allegations against Weinstein came to light and the Me Too movement picked up speed. "I had been so completely silenced that although I was central to a story that had ignited a global movement, I did not participate," she wrote. "Remaining silent had become integral to my identity, both as a woman and a person of color."
But when Christine Blasey Ford came out with her allegations against Supreme Court Justice Brett Kavanaugh, Chiu was inspired to share her story, and met with Ford and other survivors during an interview that was organized by New York Times reporters Jodi Kantor and Megan Twohey. "Meeting others who'd had similar experiences created a seismic shift within me," Chiu wrote. Later, she agreed to participate in Kantor and Twohey's book, She Said, and talked about her assault on the Today show. Weinstein denied the accusations, claiming that he and Chiu had a consensual "six-month physical relationship."
Chiu pointed out out how, while many women have been coming out with their own allegations about Weinstein, the stories of assistants and women of color have gotten "relatively little attention" in comparison. "It is important to me now that I speak up, that I allow my voice, an Asian voice, an assistant's voice, to join the array of voices in the #MeToo movement," she wrote.