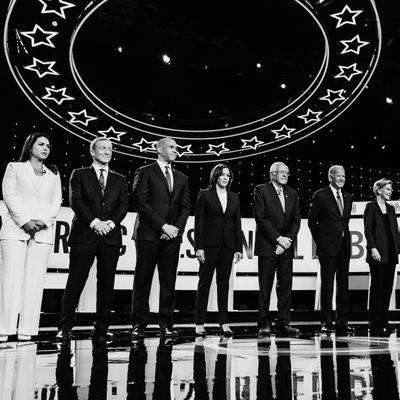 Photo: Allison Farrand/Bloomberg via Getty Images
During Tuesday's Democratic presidential debate, candidates were asked (for the first time!) how they'd protect a woman's right to have an abortion. Several of them — including Amy Klobuchar, Joe Biden, Julián Castro, and Cory Booker — responded that they'd codify Roe v. Wade into law. This isn't the first time the idea has come up: In May, as a slew of incredibly restrictive abortion bans were being passed in the South, every Democratic candidate except Tulsi Gabbard came out in favor of it. (On Tuesday night, though, Gabbard said she's in support of codifying Roe, though she opposes most abortions in the third trimester.) Codify appeared to be the buzzword of the night. So what does it mean, exactly?
Codifying Roe v. Wade would make women's right to abortion a federal law.
In the 1973 case Roe v. Wade, the Supreme Court ruled that it was illegal for states to ban abortion before fetal viability, because doing so violated a woman's constitutional right to privacy. Since then, they've upheld this precedent — but it remains under constant attack with Republicans passing hundreds of laws meant to undermine Roe's legitimacy. The ultimate goal of the anti-choice movement is to pass a law that will eventually make its way to the Supreme Court and be used to strike down part or all of Roe; in the meantime, conservative legislators have passed state-specific restrictions that make accessing abortion a near logistical impossibility as well as laws that make the window for legal abortion access increasingly narrow.
Codifying Roe v. Wade would take the question of safe and legal abortion out of the Supreme Court's hands by passing legislation in Congress that guarantees women in every state the right to unfettered access to abortion care. This would protect the right to choose even in the event that Roe v. Wade is overturned.
Why now?
While states have been chipping away at rights to abortion since it was legalized, efforts by abortion opponents have ramped up this year, with a number of states passing highly restrictive abortion laws aimed at challenging Roe v. Wade. Abortion opponents have been emboldened by the confirmation of Brett Kavanaugh, who cemented a conservative majority on the Supreme Court, which many believe could now vote to overturn Roe.
What are the Democractic candidates proposing?
Several of the codification plans the candidates mentioned last night have already been put forward. In May, Elizabeth Warren announced the details of her plan, which include passing "new federal laws that protect access to reproductive care from right-wing ideologues in the states." As the New York Times reported earlier this year, Warren and Booker have also called for repealing the Hyde Amendment, which prohibits the use of federal funds for abortions (thus preventing Medicaid patients from accessing abortion).
In May, Democrats introduced the Women's Health Protection Act in Congress. This federal bill "guarantees a pregnant person's right to access an abortion — and the right of an abortion provider to deliver these abortion services — free from medically unnecessary restrictions that interfere with a patient's individual choice or the provider-patient relationship." Senators Bernie Sanders, Kamala Harris, Warren, and Booker all co-sponsored the bill, and Harris went further, outlining a plan that would require states and localities with a history of passing abortion restrictions that undermine Roe v. Wade to obtain federal approval before new measures can take effect.
Democrats have attempted to codify the right to abortion before. In 2007, Barack Obama promised Planned Parenthood that "the first thing I'd do as president" would be to codify Roe v. Wade by singing the Freedom of Choice Act, but it fell by the wayside in 2009, when he said it was not his "highest legislative priority." And after Democrats lost the majority in Congress in the 2010 midterms, the prospect of legislating abortion protections became next to impossible. Now, it seems, Democrats are committed to making it happen.