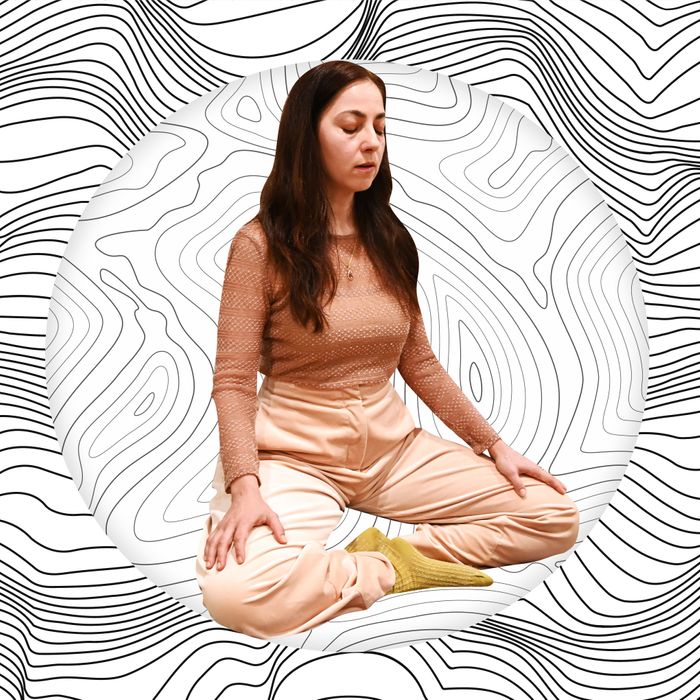 Earlier this month, the insurance and health services company Cigna hosted a meditation event featuring Ted Danson. "Come meditate with Ted Danson," the email invitation read. "As a busy actor, producer and family man," Danson "also understands that it is important to take action to reduce burdensome everyday stressors." At first I ignored it (and how did Ted Danson get connected with Cigna?), but then I was having a rough week and I thought, I want to meditate — why not? 
The event was held at a small yoga and meditation studio. A couple dozen other members of the press and I sat on meditation cushions, and Danson kicked it off by talking with a Cigna psychiatrist about the dangers of chronic stress, and about the benefits of meditation. (It lowers blood pressure, improves mood regulation, and enhances nervous-system function.) He also mentioned it being good for upending the ego, and for getting out of your own "dead-end" thought patterns.
It all felt kind of surreal — a beloved celebrity talking about personal pain, sponsored by an insurance giant (an industry notorious for causing stress?) — but it was also nice, honestly. Then we were all led in a 20-minute meditation session by an instructor named Marissa (pictured, up top). She guided us to feel the weight of our seats on the cushion, the weight of our hands on our legs, to hear the sounds around us, to feel the temperature of the air on our skin … It all went by very quickly, and I never really stopped thinking, worrying, or adjusting to the strangeness of the situation, but when I opened my eyes, I felt good.
At one point beforehand, Marissa had said that it was fine to have a meditation practice that felt "insultingly short," which I liked. That five minutes would be great, but that "even five breaths" would be helpful. She also said that the point of meditation wasn't to clear your thoughts and feel peaceful, but to sit with your own "annoying" mind, almost to prove that you can.
Afterward, people asked Danson about his acting career, his meditation routine, and the end of The Good Place. It felt funny and yet strangely appropriate to be talking about television in the same breath as existential dread, sponsored by insurance. How do you deal with emotional pain? Did you take home any keepsakes from the set? Why are we here?
The meditation session was also nice enough that I thought, Why not actually do this for a while? I'd shown up to the event feeling bent out of shape — I was down about various work and life things — and afterward I felt better. Minorly rearranged. Since then, I've been doing ten-minute sessions most days on Headspace. I know I'm the last person in the world to get into Headspace, but it has a free beginners' ten-day sequence. Strange doors are always appearing, it seems, to take us where we want to go.