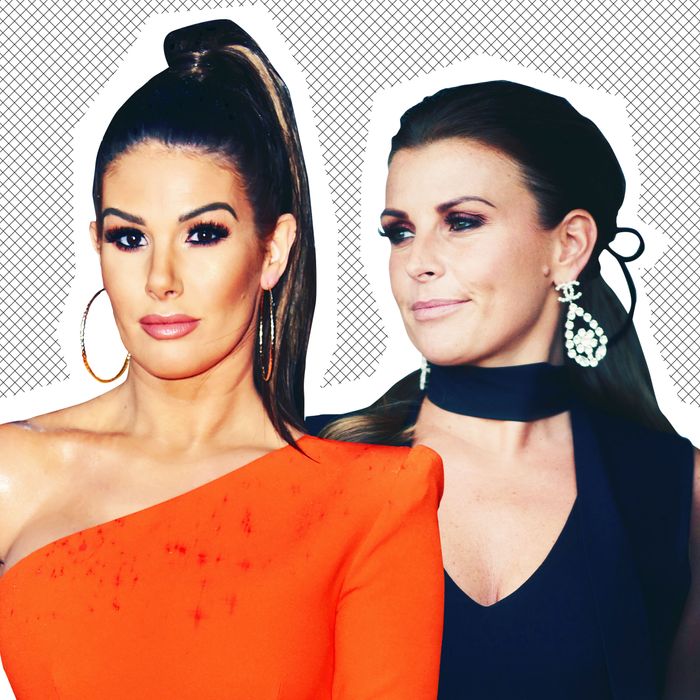 Photo: Getty Images and Shutterstock
On Wednesday, the United States awoke to news that something dramatic and Byzantine was transpiring across the pond: specifically, that prominent WAG (an acronym used to refer to the wives and girlfriends of soccer stars) Coleen Rooney had accused fellow WAG Rebekah Vardy of leaking her private Instagram stories to the Sun. Rooney had arrived at this conclusion, as she explained in a lengthy statement, by patiently and meticulously constructing a sting operation over the course of several months, ensnaring her alleged tormentor in an Instagram trap.
If you are like the bulk of Americans who've read this news, you are likely seized with two conflicting emotions: abject confusion at what any of this means, and an irrepressible urge to understand it all. What is a WAG? Who are these people? Did Rebekah Vardy really think she'd get away with it?
To understand this unhinged drama, let's start at the beginning.
What exactly is a WAG?
In Britain, there exists an unrivaled fascination with the wives and girlfriends of major soccer stars — frequently referred to as WAGs, which stands simply for Wives and Girlfriends. Though footballers have been dating for, well, ever, the acronym didn't really enter mainstream parlance until 2006 — truly the golden age of WAGs. It was the year of the World Cup in Baden-Baden, and WAGs — under the leadership of Victoria Beckham — descended upon the stadium wearing spaghetti straps and massive sunglasses, and clutching Hermes Birkin bags and Veuve. Predictably, the British press went crazy over their every move.
In fact, after England made such a poor showing in the Cup, the tabloids in part blamed the team's bad performance on the WAGs' excessive partying. (It will not come as a shock that much of the coverage of WAGs is sexist.)
And who are the feuding WAGs?
The two WAGs are Coleen Rooney (whose detective skills have now earned her the nickname "Wagatha Christie"), the wife of English footballer Wayne Rooney, and Rebekah Vardy, the wife of Jamie Vardy. Both are prominent WAGs with sizable followings on Instagram: Vardy with 400,000, and Rooney with 800,000.
Per New York Times reporter — and, more important, British person — Elizabeth Paton, "Coleen Rooney has grown in celebrity status over the years to reach peak WAG royalty." Vardy, on the other hand, is "a more recent addition to the fold."
And, per Patton, they weren't "known enemies." The other WAGs who have weighed in on the drama, though, have been quick to pick sides.
So what happened?
On Wednesday, Rooney publicly claimed in a truly incredible Twitter post that she had caught Vardy leaking her private Instagram stories to the Sun. How, exactly? Well, she says that she blocked all of her followers (on a private account) from seeing her Insta stories, but allowed Vardy, whom she suspected of being the culprit, to view them. Then, over the next five months, she posted a series of false stories — from one about looking into a controversial treatment to pick the sex of her baby, to another about basement flooding in her new home — all of which made their way into the Sun and other British tabloids.
The strategy seemed airtight, but the accused promptly denied it, via a Notes-app screengrab composed while on vacation in Dubai. In her rebuttal, Vardy claimed that multiple people have her Instagram passwords, and insisted she was not the leaker. "I'm not being funny but I don't need the money," she wrote, adding that she was "upset that you have chosen to do this when I'm heavily pregnant" and "disgusted that I'm even having to deny this." Per the Victoria Derbyshire, on Wednesday, Vardy asked her lawyers to conduct a "forensic investigation" into her Instagram account "to see who has had access to it and when."
On Thursday, (former) WAG Danielle Lloyd, who used to be married to footballer Jamie O'Hara, spoke out on the feud — and sided with Rooney. (Does your WAG title get revoked once you break up with a soccer star? Or once a WAG, always a WAG?) Anyway, in an appearance on This Morning, Lloyd said she wasn't "shocked" to hear the allegations against Vardy, explaining, "I've had run-ins with Rebekah before over similar things." This, predictably, set Vardy off.
"Danielle Lloyd making false claims on @thismorning that we have had 'similar run-ins' is utter bollocks," she tweeted on Thursday. "She is just fuming that I 'didn't get Jamie recruiting' for her like she asked me to …" (Side note: What's this with Jamie, now?) Then, in a follow-up tweet, Vardy asserted that she would not say "anything more until we've finished looking into this situation properly" — presumably, she's referring to this "forensic investigation."
How are people responding?
Social-media users can't get enough of the drama, which is grade-A by all standards.
Oh my god???
We eagerly await the results of the investigation.
This post has been updated.