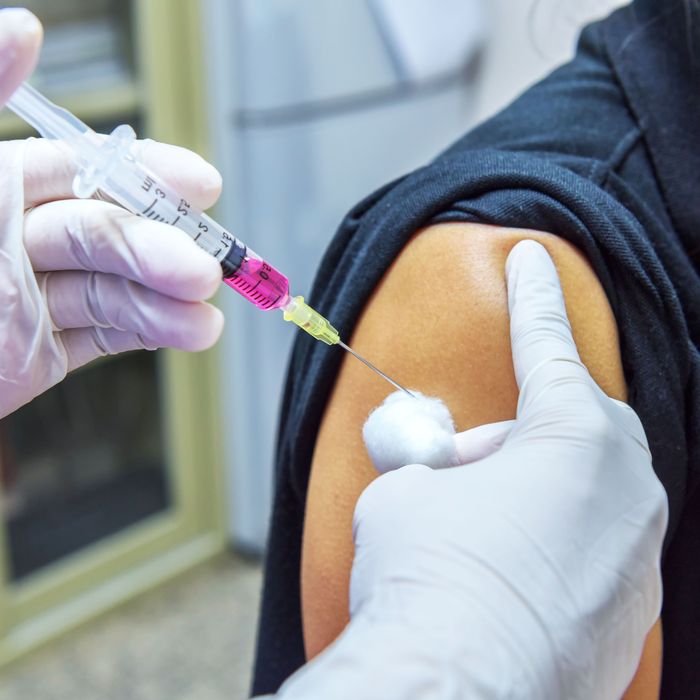 Flu shot.
Photo: wissanu01/Getty Images/iStockphoto
Not to be alarmist, but it's a good idea to start thinking about getting your flu shot — and sooner rather than later.
According to a new report in the New York Times, Australia had "an unusually early and fairly severe flu season" this past year, which has public-health experts concerned that the U.S. may suffer the same fate. Therefore, the Centers for Disease Control and Prevention is urging Americans to get their flu shots at their earliest convenience.
"It's too early to tell for sure, because sometimes Australia is predictive and sometimes it's not," Dr. Daniel B. Jernigan, director of the influenza division at the CDC, told the Times. "But the best move is to get the vaccine right now."
Per the weekly CDC FluView, not many people are currently suffering from the viral infection in the U.S., but that's not a good reason to drag your feet on getting vaccinated. "You should get a flu vaccine before flu viruses begins spreading in your community, since it takes about two weeks after vaccination for antibodies to develop in the body and provide protection against flu," reads the CDC website. And, while flu season varies every year, October typically marks its start.
As you may remember (some, unfortunately, more than others) flu season was particularly bad last year: The CDC estimates that between 37.4 million and 42.9 million people in the U.S. contracted the virus, and between 36,400 and 61,200 people died from it. The season also lasted an unbearably long time: 21 weeks, which was the longest it had been in a decade.
Anyway … what a beautiful day to go and get your flu shot!