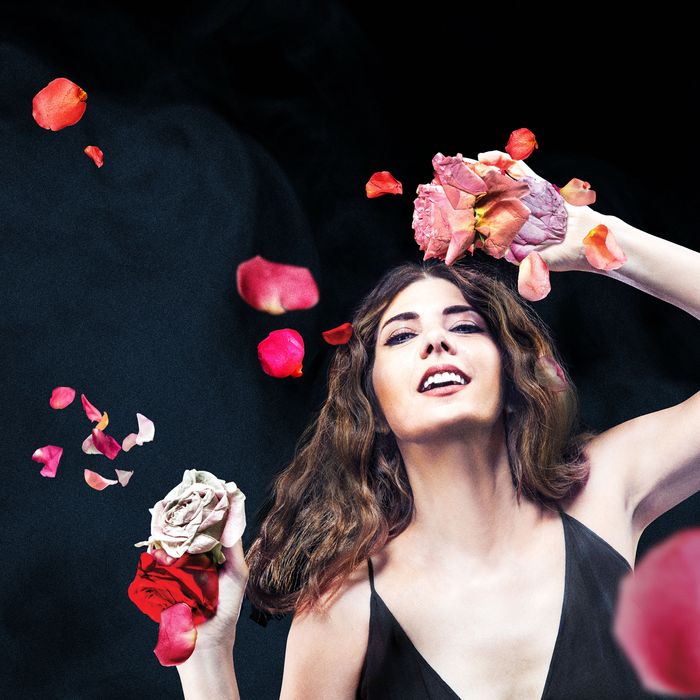 Photo: Courtesy of Roundabout Theatre
"Let me show you how strong — like a man — a woman can be." Across a 750-seat theater on 42nd Street, these words are echoed by Marisa Tomei into the ears of anyone ready to listen. The line derives from the 1951 Tennessee Williams play The Rose Tattoo — Tomei currently stars as its fiery and fantastic leading lady in the Broadway revival. Arguably one of Williams' more underrated works, the play is set in a Gulf Coast town and tells a story of love, healing, and unapologetic womanhood. Considering the combination of a 16-woman cast with the acting force that is Tomei, it's safe to say there's a lot to unpack.
Before you experience the play for yourself — it runs through December 8 at the American Airlines Theatre — here's what you need to know.
Tomei plays a truly unforgettable character.
The Rose Tattoo surrounds Serafina, a grieving Sicilian widow and beautifully energized mother who shows the entirety of who she is, no holds barred — from hysterical and paranoid to passionate and protective. In the Roundabout Theatre Company revival, Marisa Tomei plays Serafina with a wild physicality, bringing the character to new levels of life with all-too-familiar personas: the overemotional widow; the uncontrollable daughter; the manic, overprotective mother. She is, as self-described in Williams' words, "heavy with life." Give yourself the gift of seeing Tomei stretch farther than possibly ever before in a role that cannot be put in a box. This is a play about feeling, and thanks to Tomei's willingness to go the distance, there's so much to be felt.
The play celebrates women in a way that feels raw and refreshing.
The stage is already known for emotion, but in The Rose Tattoo, the unfiltered, messy, and radically impassioned view of healing and motherhood gives the audience a look into something not typically spotlighted. On top of the play's feminist POV, Williams' language is almost distractingly quotable. (One option that could make a great tattoo: "What is a husband good for?") Hilarious, romantic, and often devastating, the Trip Cullman-directed Roundabout revival is arguably a musical at times — filled with the hallelujah chorus of outspoken women. Williams has a history of creating strong female characters, and in this production, their voices are only heightened.
It has a provocative past (and present).
Williams' first romantic comedy has seen its fair share of attempted suppression. In 1957, shortly after its inception, the play opened at a theater festival in Dublin where it underwent intense (and now, laughable) scrutiny after merely miming the use of a certain forbidden contraceptive. Now, 62 years later, the play remains just as tantalizing — only in different ways. Sexuality is a front-running theme in the revival, from Serafina's struggle to accept her husband's death and potential infidelity to her daughter's awakening with a first boyfriend. It ends up being 15-year-old Rosa who speaks for us all when fighting with Serafina over her right to sexuality and control over her body. She says, in reference to why she so desperately desires to be intimate for the first time, "Because I want to. And that's a good enough reason."
Roundabout is known for bringing Tennessee Williams to the stage. 
If Roundabout's past seasons are any indication, there's an obvious importance placed on telling heroine stories through a fresh, relatable lens. And as a historically great playwright, Williams creates characters that feel brilliantly real and dramatically current — the challenge, then, is to create a world around them that follows suit. In Roundabout's production of The Rose Tattoo, the word "colorful" comes to mind. Looking across the sea of warm pinks and fiery reds of Serafina's hearth and home, one thing is immediately clear: This revival is as alive as The Rose Tattoo has always been, and will always be.
Roundabout Theatre Company's The Rose Tattoo, starring Marisa Tomei, is now playing through December 8 at the American Airlines Theatre.
This is paid content produced for an advertiser by New York Stories. The editorial staff of The Cut did not play a role in its creation.