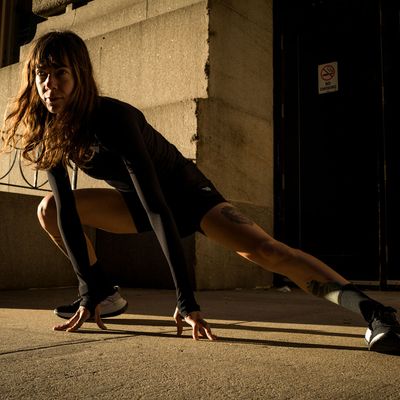 For better or worse, I have amassed so much athleisure as to have developed a hierarchy. There are the stretchy outfits for yoga, the cute ones for group classes in well-lit rooms, the worn leggings and shorts go with baggy shirts for everyday gym workouts. For my sweaty, high-intensity workouts, I reach for the same pair: my Wolaco sports bra and leggings. They're thicker than my other leggings, but not compressive. But the best part is that they also come built in with a sweat proof pocket so my phone doesn't get a covered in a thick layer of sweat while I'm working out. They're still my go-tos on days when I'm either going to be sweating a lot, or really want to look like a capital-A Athlete.
Wolaco just launched two new products for women — a tank top in two lengths, and a pair of shorts that come equipped with some spandex underneath. The short also comes in a men's size, as well. Because Wolaco has an edited offering, the tanks are both the perfect length to pair with the fleece, crop, long-sleeve top. If you're going to be engaging in any high-intensity activities this fall (marathons, maybe?) these are built for those kinds of workouts. Shop the new releases, and my favorites, below.
Available in sizes XS–XXL.
Available in sizes XS–XXL.
If you buy something through our links, New York may earn an affiliate commission.