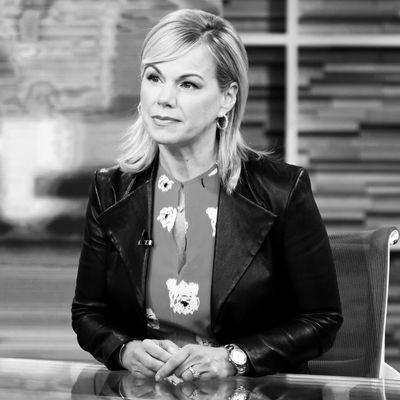 Photo: Paula Lobo/Walt Disney Television via Getty Images
More women seemingly want to speak out about their alleged unequal treatment as employees of 21st Century Fox, a company that recently settled several multimillion-dollar sexual-harassment lawsuits.
Vanity Fair reports that at least six former Fox News employees are demanding that they be released from the company's nondisclosure agreements (NDAs), presumably so they can discuss sexual-harassment allegations publicly. The group includes Gretchen Carlson, the first person to file a sexual-harassment lawsuit against Fox News' former chief Roger Ailes. Carlson told Vanity Fair over the weekend, "All women at Fox News and beyond forced to sign NDAs should be released from them immediately, giving them back the voices they deserve."
Carlson went on to say that she sees NDAs as part of a multifront battle to ensure that women are treated fairly at work:
That fight includes paying women fairly, putting more women in C-suite positions, and giving women more board positions. But until we get rid of NDAs for sexual harassment or assault, women will never be truly equal. NDAs grant the ultimate secrecy, serving to keep our society's gender inequality intact.
This demand comes after MSNBC's Rachel Maddow announced on Friday night that NBCUniversal, parent company to her network as well as NBC News, would permit former employees who wished to disclose incidents of sexual harassment while at the company freedom from their NDAs to do so. The announcement came a few days after Ronan Farrow, a former NBC correspondent himself, released his new book, Catch & Kill, a thriller-style account of his attempts to break the Harvey Weinstein abuse story. Though it was ultimately published at The New Yorker, Farrow claims in the book that NBC actively tried to suppress his reporting.
NDAs are pretty much universally bad, the reason being that their burden falls entirely on employees who sign away certain rights, usually to disparage or otherwise compromise their employer. Those who violate the terms of their NDAs can face serious financial retribution. As Diana Falzone writes in Vanity Fair, "For decades, powerful corporations have relied on NDAs to sweep sexual misconduct under the rug, often paying out millions of dollars to keep employees silent about the predatory behavior of senior executives. The system works against victims in other ways too: Litigation is costly, stressful, and frequently prohibits or otherwise prevents a litigant from obtaining new employment."
Tamara Holder, a former Fox News contributor who settled a sexual-assault claim against the company in February 2017, explained to Vanity Fair that the silencing power of NDAs exist on a continuum of abusive behavior. "An NDA is really just an extension of the underlying abuse," Holder said. "Sexual abuse is about power. And with these NDAs, the network has chosen to step in the shoes of the abuser."