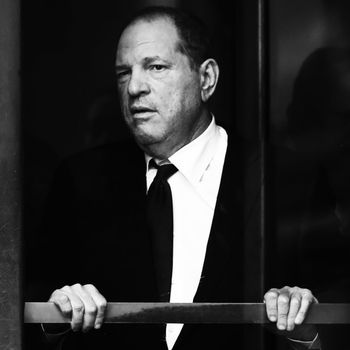 Harvey Weinstein.
Photo: Spencer Platt/Getty Images
Three women say they confronted Harvey Weinstein at a performance he attended last night at a New York City bar. In the wake of the encounter, they claim they were heckled, laughed at, and eventually asked to leave.
Comedians Kelly Bachman and Amber Rollo, and actor Zoe Stuckless say they were attending Actors Hourat Downtime Bar in Alphabet City when they spotted the disgraced producer in the crowd. Weinstein, who has been accused by over 80 women of sexual misconduct, is currently out on $1 million bail after pleading not guilty to rape, a criminal sex act, sex abuse, and sexual-misconduct charges for incidents involving two women in May 2018. At the event, he was flanked by several companions, male and female, and his group was sitting at one of the only tables in the low-lit, small room. "To me it seemed like old-school Weinstein, surrounded by actors," said Bachman, who was there to perform a stand-up routine.
Bachman is a rape survivor, and felt panicked. When it was her time to go onstage, she considered leaving. "But I got up there," she said, "and he's staring at me with shark eyes — maybe that's just his face. So I just tried to address it as best as I could."
"There's an elephant in the room," she began, per a video posted on her Twitter account. "It's more of a Freddy Krueger, actually. I didn't realize I needed to bring my own mace and rape whistle to Actors Hour." Members of the audience booed her, and someone yelled, "Shut up." Bachman says she was stunned by the reaction. "Sorry, that killed at group therapy for rape survivors," she continued. "I have been raped, surprisingly not by anyone here, and I've never been able to confront those guys, so just a general 'Fuck you.'" Then she returned to her set.
None of the performers after Bachman mentioned Weinstein — aside from a male comedian, identified by BuzzFeed as Andrew B. Silas, who said to the audience, "I'd like to address the elephant in the room. Who in this room produced Good Will Hunting? 'Cause that shit was great." Silas insists he was trying to support Bachman with the joke, telling BuzzFeed, "I swear I'm not a piece of shit." He says he only "shrugged" at Weinstein when he walked by his table.
Actor Zoe Stuckless, however, told BuzzFeed that watching Silas engage with Weinstein made them angry, "that he was allowed to be in this space and allowed to be laughing, and that comic was able to demean the person that went up before him." At intermission, Stuckless decided to confront Weinstein at his at his table. In a video they posted to Facebook last night, they can be seen screaming at Weinstein, "Nobody's going to say anything? Nobody's really going to say anything?" A woman then says, "You should probably go," as other people get up from the table to get in between Stuckless and Weinstein. Eventually, Stuckless was asked to leave.
In all, around ten women walked out after Stuckless was kicked out, Bachman's friend and fellow comedian Amber Rollo told the Cut. (On Twitter, Rollo says she cursed Weinstein out after Stuckless, and that "his friend/bodyguard/goon/family member" responded by calling her a cunt.) Rollo told the Cut, through tears, that she felt comforted by the small group that left the event, but that "inside there were still 50 more people or so who were willing to be complicit while a serial rapist sat there."
A representative for Weinsten called the confrontation "uncalled for, downright rude and an example of how due process today is being squashed by the public" in a statement to The Hollywood Reporter, adding that "the public" was "trying to take it away in the courtroom too." (Weinstein has consistently denied all allegations of non-consensual sex.)
It is unclear how Weinstein ended up at Actors Hour, which is billed as an event "exclusively designed for artists," according to its website. In a since-deleted Instagram post, the organization denied that any of their members had asked him to attend. Both Rollo and Bachman say they suspect he was invited by Alexandra Liliberte, the Actors Hour host, but she denied doing so in a statement to BuzzFeed. (However, she admitted that it was the second time Weinstein had "turned up" to a performance.)
"Being in that space, I felt like the air was sucked out of my chest," said Bachman. "I've literally had nightmares about running into Harvey Weinstein. The fact that it came to life, it truly felt like Freddy Krueger. I wish I'd said more."
This article has been updated with additional information.