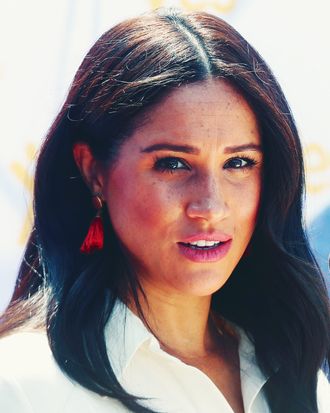 Meghan Markle.
Photo: Chris Jackson/Getty Images
As Meghan Markle wages a legal battle against British tabloids' hypercritical coverage of her, women in Parliament are letting the Duchess of Sussex know that they stand in solidarity with her.
On Tuesday, dozens of female MPs, led by Holly Lynch of the Labour Party, delivered this message to Markle in the form of an open letter, in which they condemned the "often distasteful and misleading nature of the stories" about the duchess and her family.
"On occasions, stories and headlines have represented an invasion of your privacy and have sought to cast aspersions about your character, without any good reason," the letter reads. The women also address the latent — and at times, explicit — racist undertones in the tabloid's coverage of Markle, calling it "outdated, colonial."
This letter comes one month after Markle filed a lawsuit against the publisher of the Daily Mail for its personal attacks against her, and notably, "the unlawful publication of a private letter" between Markle and her estranged father. "Unfortunately, my wife has become one of the latest victims of a British tabloid press that wages campaigns against individuals with no thought to the consequences," Prince Harry said in a statement, noting that the onslaught of invasive coverage "has escalated over the past year, throughout her pregnancy and while raising our newborn son."
Though the female MPs acknowledge that their experiences as public figures differ quite a bit from Markle's, they say in the letter, "We share an understanding of the abuse and intimidation which is now so often used as a means of disparaging women in public office from getting on with our very important work."
The letter continues: "With this is mind we expect the national media to have the integrity to know when a story is in the national interest, and when it is seeking to tear a woman down for no apparent reason. You have our assurances that we stand with you in solidarity on this."