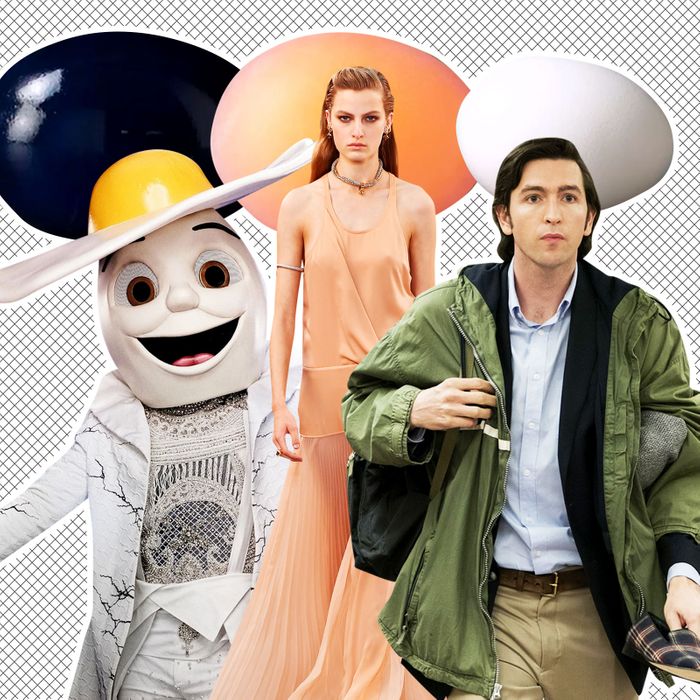 Hello my beauties.
Photo: Fox, HBO, Getty Images, Twitter
Ah yes, eggs: Bigger than ever before, by some strange sorcery. Have you noticed that eggs are everywhere these days? Watching you, inviting you to watch them, wrapping you in their warm tan embrace, bringing you your slippers at the hospital — the eggs have taken over, woven themselves into the very fabric of your daily life. Indeed, according to Twitter, today is World Egg Day, a made-up holiday you probably never would've noticed, if it weren't for the eggs bearing down on you from all sides. We are living in the Age of Egg, friends, and if you don't believe me, I offer as proof: a catalogue of eggs who have recently entrenched themselves in the popular discourse, challenging our notion of what eggs could — and, arguably, should — be.
A Mysterious Singing Egg
From the beautifully unhinged minds behind Fox's marquee mascot competition, behold: an egg that sings, dances, really does it all. In August, The Masked Singer introduced us to Egg, an overlarge eggy bandit who bore a slight resemblance to the Hamburglar, in that he wore a cape and a wide-brim hat. (Which was just a big fried egg, a detail that's either wonderfully deranged or frighteningly suggestive of egg-on-egg violence, depending whom you ask!)
(Egg, FWIW, turned out to be figure-skating champion Johnny Weir.)
Greg, the Egg
Technically, the moniker Greg the Egg was born in 2018. But, because HBO's Succession has really tightened its stranglehold on the internet this year, may I present: Cousin Greg Hirsch, aptly dubbed "the Egg" by his extended family, just a very tall and very hapless dingus who really just bumbled in this power trap on accident. Thank you for the park coke, Cousin Egg! We fear you may be doomed.
The Egg That's Bigger Than Before
Before July 2019, when an inexplicably bonkers craft video hit Twitter, I had never really paused to consider the potential of an egg's shell. I assume you hadn't either, so let me tell you all about it: Covered in tiny bumps like goose pimples, an eggshell is reportedly super-porous (17,000 pores per egg, I'm told!) and semi-permeable, which I presume is what allows it to become BIGGER THAN BEFORE when soaked for 24 hours in a wine glass full of vinegar, and BIGGER STILL when subsequently soaked for 48 hours in maple syrup and water. It's either the shell or it's magic; either way, the moment when we as an internet learned how to make an egg BIGGER THAN BEFORE will live in infamy.
High-Fashion Eggs
Back in September, New York Fashion Week was really just an elaborate ode to eggs. Egg-crate platforms! Bulbous, ovular silhouettes! A parade of soothing, eggy browns, at once pinkish and beige like fresh new shells: a uniform to ingratiate yourself with your new egg overlords.
An Egg More Famous Than Kylie Jenner
Back in January, when the Year of the Egg had only just begun, an underdog won big: a humble, freckly little hero clambered up onto its humble social media platform, just an egg standing in front of the internet, asking said internet to love it. And you did! You really did. Our little egg beat out Kylie Jenner (or, more exactly, her then-infant child, Stormi) as the world record-holder for most Instagram likes. In hindsight, the sudden popularity surge reads like writing on the wall.
Egg Boy
Not to be confused with Greg the Egg, this Egg Boy hails from Australia and famously smashed a raw egg on the head of one Fraser Anning, a right-wing politician who — at the time (March) — had just blamed a deadly mosque shooting on the very people targeted. Many were appalled to hear Anning defend a white nationalist, and in such cruel terms, but only 17-year-old Will Connolly took up his egg, cracking it over Anning's head as he spoke to reporters, and thereby cementing his status as a Very Good Egg.
A happy World Egg Day to all my beauties. I will leave you all to celebrate as you see fit.