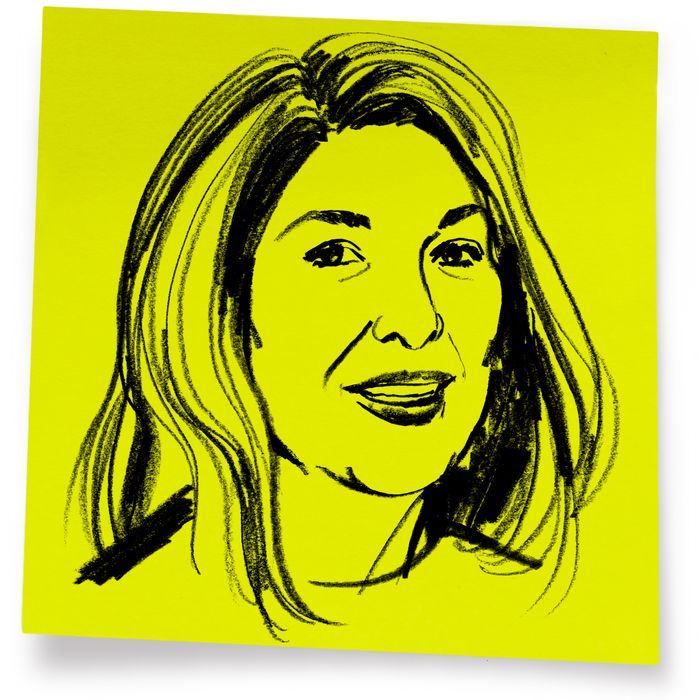 Naomi Klein.
Illustration: Lauren Tamaki
Doing the Most is a special series about ambition — how we define it, harness it, and conquer it.
Journalist, writer, and activist Naomi Klein is the author of seven books, including No Logo, The Shock Doctrine, and This Changes Everything. Over the past 20 years, she's reported on the front lines of progressive movements, from Occupy Wall Street and beyond, and is known for her unflinching critique of capitalism and globalization. Recently, Klein has turned her attention to climate change. Her latest book, On Fire, inspired by youth climate activists like Sunrise Movement and Greta Thunberg, argues the case for a Green New Deal. Klein is currently the Gloria Steinem Endowed Chair of Media, Culture, and Feminist Studies at Rutgers University, and she lives in New Jersey with her husband and son. Here's how she gets it done.
On a typical morning:
I get woken up by my son, Toma, who is now 7. There is no meditation. It's a good day if he lets me sleep until 6:30. There is a cockapoo, Smoke, who sometimes also jumps on my head, too. We got her right after the wildfires in California, and she looks like little puff of smoke. I do miss some pre-child aspects of life. In particular, before I had a kid, I was fiercely protective of my morning brain. I really do believe I'm sharpest in the morning. I try to make a smoothie for breakfast, and I try to make it as healthy as possible but still as tasty enough that my son might drink it. There are green things but also purple things.
On her work schedule:
The whole idea of having a job is completely new and exotic to me. I haven't had a regular job in 20 years. I've been working from home, or I've been on the road. Right now, I'm only teaching once a week, and I arranged it like that because I'm on book tour. But last semester I was going into the office every day for the first time in my life. And it was really nice to have that rhythm and that separation.
On writing:
When I'm writing a book, I set up a lot of elaborate boundaries to protect that space. My in-box is a really intense place, and there are a lot of demands — most of them are incredibly worthy and lots of them are really exciting, and they're all distracting. When I wrote The Shock Doctrine, and for the first few years I was working on This Changes Everything, I was physically isolated in a remote part of British Columbia. When I'm doing hard writing, when I'm immersed in the worst that humans are capable of doing to other humans, it's a real balm to be able to take breaks from that and hike in old-growth forests and to be surrounded by a lot of natural beauty. That's still my preferred place to write.
On ambition:
I am really, really politically driven. It's less about personal ambition and more about collective ambition. I think we live in a society that fetishizes and encourages personal ambition in all kinds of ways, including by creating all these levels of precarity and insecurity. The stakes of winning are so high, and everybody is so scared. While we encourage our personal ambition, we diminish and discourage collective ambition. I think that focus on personal ambition is really understandable, because we live in such an unequal society — but it will kill us.
I've been on the road with young climate organizers on this book tour, and one thing I keep hearing is that they should not be doing this. They're spending every recess, every lunch hour, every weekend, trying to save their future. And so my message right now is like, fuck your work-life balance. What are you willing to give up? If these kids are giving up their childhoods, you know, are you willing to give up your evenings? Are you willing to give up your weekends? Are you willing to organize your co-workers?
On work-life balance:
I don't hold myself up as any kind of model for work-life balance. I feel a genuine terror about how little time we have. I feel that incredibly intensely and have ever since I have started to listen to the climate clock. So I go hard. My balance is really about my son, my family. That does come at a cost to what these days is called "self-care," but that's just life. There aren't enough hours in the day for me to do the work, be there for my son, and also have a regular yoga and meditation practice and chill out at the spa.
The truth is that I think that this kind of corporate framing of self-care is almost palliative. I don't think it's truly rejuvenating. For me, time spent with friends and in the community, including in movements, is much more sustaining. The time that I spend on book tour with local climate organizers, particularly young people, reminds me why I do this work, and it gives me an incredible jolt of energy.
On trying to live a sustainable lifestyle:
Like I said, I don't hold myself up as a model. But I try to ask myself where the impulse [to buy things] comes from. It's usually just about anxiety. I can go months without thinking about shopping. But if I'm about to go on book tour, it's like, oh my God, I need an entire new wardrobe. When I'm on the road, I'm always tempted to buy stuff for my son because I feel guilty. But it's just as good for him to be able to look forward to an activity that we're going to do together. So he's looking forward to apple picking with me on Saturday. But I'm sounding like way more of a hippie than I actually am. I have my creature comforts. I'm in Austin right now, which is a reminder that I have a weakness for small-batch vodka. A good eye cream is also a weakness and a necessity on the road.
On grief and rage:
When I started writing, I wasn't writing about environmentalism as much as economics. I started speaking publicly in extremely male-dominated fields, and they were determined to discredit me, because I was making anti-capitalist arguments and taking on some of the most beloved figures on the right, like Milton Friedman. So I developed a style that was very calm and a little bit wry.
But with where we're at right now, in the climate crisis, I've been thinking a lot about the problem of being too calm. A lot of women in the public eye, women of my generation, trained ourselves to keep a pretty tight lid on our public expressions of rage and grief. And I don't think that's helpful in the moment that we're in. I've been thinking a lot about how to unlearn those skills, because I truly don't give a shit whether I'm taken seriously by people I don't respect.
On coping with climate-change anxiety:
I picture the most beautiful trees that I know. Most of them are in British Columbia. I actually carry around a picture of a willow at my friend Eve [Ensler]'s house. Thinking of trees really helps me because, as a speaker, it helps to think about being rooted. It's not just about de-stressing; it's also about focusing on the fact that I don't want to be out here making people terrified of nature. I remind myself that, when we aren't screwing things up, we are really lucky to live on a planet that we are adapted to and that is incredibly generous with them sustaining many forms of life.