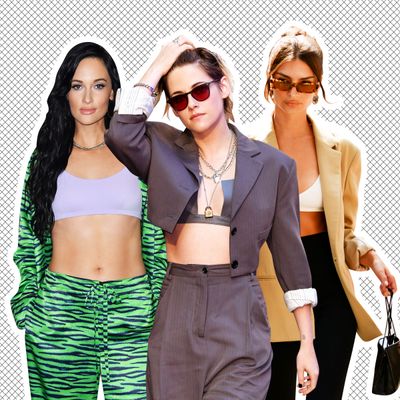 Kacey Musgraves, Kristen Stewart, Emily Ratajkowski.
Photo: Getty Images
As 2019 comes to a close, we look back on some of the biggest winners of the year: tall girls, feral hogs, the adorable Australian marsupial whose raison d'être is a legitimately deathly amount of sex. But the biggest winner of all may have been bras, which came out in force over the past year, fully transcending their utilitarian purpose to become a different clothing item altogether: shirts.
It wasn't the first year that people started wearing bras as shirts — fashion bloggers and celebs such as the Kardashians have been sporting lingerie in public for years. But in 2019, we saw celebrities bare the undergarment in a way that didn't read as overtly sexy, or even all that daring, cementing the bra-as-shirt look as a verified trend. From Emily Ratajkowski's business bra top to Hailey Baldwin's bridal bra, these moments have made it clear that the garment no longer needs to be concealed. Instead, it's now simply something you wear to breakfast, around the city, or even on the red carpet.
Let us measure the year in the best of the trend.
The $520 cashmere bra
Over the summer, celebrities bestowed upon us an abundance of post-breakup style inspiration: There was Irina Shayk's utilitarian, sexy-mechanic Burberry jumpsuit, and Pete Davidson's sweatshirts (with the hood up). But no one quite mastered breakup look quite like Katie Holmes, who, following her split from her longtime boyfriend Jamie Foxx, walked around Soho wearing an oversize Khaite cashmere cardigan — and most important, a matching cashmere bra that, by itself, cost $520.
In fact, the look was so powerful that within an hour of Khaite posting the photo of Holmes in the ensemble to its Instagram, the brand completely sold out of all its inventory. I repeat, enough people were so moved by the look, they decided to drop more than $500 on a bra, depleting Khaite's stock.
The bra and robe
Over the summer, Cardi B tested the limits of a skintight jumpsuit — and, well, surpassed them. After ripping her outfit while twerking during her Bonnaroo performance, she escorted herself off the stage, and then reemerged in an unexpected Tony Soprano–inspired look: an oversize white robe, which she pulled aside to show off her nude bra. As she called out to the audience, "We gonna keep it sexy" — and that she did.
The Powerful Woman look
What does one wear to a breakfast for certified Powerful Women? If you're EmRata, you step out of your New York City apartment sporting a camel-colored blazer, a white bra, black bike shorts, and mules. And, if you're making a bodega run, you lose the jacket (and the shoes and pants).
The leather bra
While promoting Charlie's Angels earlier this month, KStew wore a leather bra — I repeat, leather bra — on her way to Good Morning America, which is something few would dare do. I imagine the boob-sweat situation to be less than ideal, but the aesthetic? A-plus.
The bridal bra
Hailey Baldwin — or excuse me, Hailey Bieber — certainly did not create the concept of bridal bras, but she did wear the most memorable bridal-bra outfit of the year. Three days after her and Justin Bieber's big Christian wedding in South Carolina, which featured $1,200 worth of fresh-squeezed juice and Bieber's personal DJ, one of Hailey's friends Instagrammed a photo of her wearing an oversize Jacquemus blazer with a shockingly affordable white bra underneath. That's not sacrilegious, right?
All the bras at the Savage x Fenty show
At Rihanna's inaugural Savage x Fenty show, there was no official red-carpet dress code, but there one an unofficial one: lingerie.
Not only are bras now casual enough to wear walking around Soho, but they're also red-carpet wear. What a glorious time to be alive!